NYS GIRLS DIVING: OWEGO'S KATCHUK REACHES 1-METER PODIUM
(2023-11-17)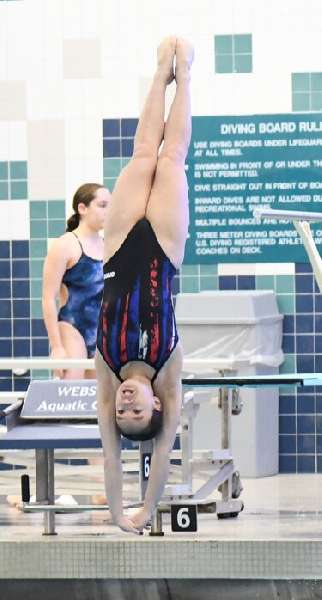 By BRIAN FEES
Tioga County Sports Report
WEBSTER — Owego's Kaelyn Katchuk will be coming home with a state medal around her neck after a sixth-place finish at the NYSPHSAA Federation Diving Championships on Friday at the Webster Aquatic Center.
The Owego junior reached the 1-meter springboard podium with a score of 466.15.
Katchuk came into the meet seeded to medal, as she was the fourth seed coming in, but she doesn't like to think about things like that.
"I don't really think about seeds, I'm just trying to dive as best I can," she said. "I have a pretty good opportunity here so I'm going to go all out."
Just being at states again was special for the Owego standout.
"Very exciting, it's always exciting," Katchuk said.
Katchuk also earned a state medal last year, finishing 10th in the state. Since last year the junior worked to try and get even better this year.
"Working on mentality, staying in the game for the whole meet," she said. "And, mechanics as always. Mechanics are important."
It was a special day for Section IV as three divers from the section earned state medals. Corning's Brooke Terwilliger was state runner-up (488.70) and Madison Morris of Maine-Endwell was 10th (438.80). The section had five total divers competing at states this year.
"I think Section IV is like our own family, so it's nice to see everyone competing and doing so well," Terwilliger said.
FOLLOW-UP COMMENTS FROM COACH ROGER KATCHUK:
"This was a pretty tight contest with some very hard dives thrown. Several of the top seniors from this year are going on to dive at Division I colleges.
Kaelyn went long on her first three dives. Too much adrenaline. She dug a hole for herself and at the end of Round 3 she was in 22nd place. Starting Round 4, Kaelyn settled down and started to claw her way back with some solid diving. By the end of the seventh round she had moved up to 14th place. Going into Round 8 I told he, 'It's time to drop the hammer! You can still punch into the top 10 if you execute.' Her next four dives were outstanding and they propelled her to a 6th-place finish. I was pretty happy with the focus and comeback."
——————
PHOTOS 1-8 BY BRIAN FEES. PHOTOS 9 & 10 SUBMITTED.