NYS VOLLEYBALL: CANDOR SEEKS FOURTH STATE CHAMPIONSHIP
(2023-11-17)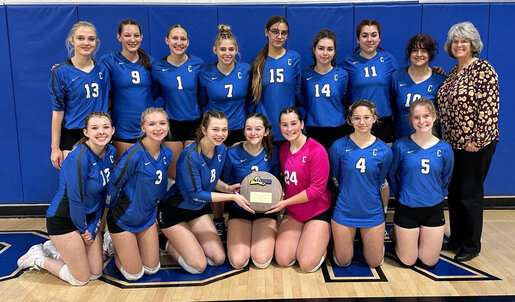 By TIM TAYLOR
Tioga County Sports Reports
CANDOR — The Candor volleyball team takes aim at a fourth state title when it competes in the NYSPHSAA Class D Volleyball Championships this weekend.
The Coyotes (16-2) will face Chautauqua Lake out of Section VI in a semifinal Saturday night. Candor has been here before while the Thunderbirds (20-3), ranked second by the New York Volleyball Coaches Association, are playing in their first state semi. Their head coach, Joanne Meadows, won titles with Mayville in 1993-94.
Candor has won three state championships, matching Owego for the most in Section IV. The Coyotes won back-to-back titles in 2002-03, then picked up No. 3 in 2019, winning all nine sets in the semis and finals.
Coach Pam Quinlan's crew last qualified for the semis in 2021, going 1-5 in pool play.
The Thunderbird roster includes at least one player in every grade level, 7th through 12th, including four seniors and three freshmen.
Quinlan hasn't researched Chautauqua Lake much in preparation, but doesn't feel she needs to.
"I'm kind of a believer in you can look at them, but who are they playing? There's a lot of variables involved, so I think you just have to kind of go there and just be ready to adjust to whatever they have," she said. "I feel like picking up non-league games with Trumansburg and Tioga, and going to some of the tournaments, trying to play some teams that are going to have some big hitters and some tough servers, and some good defense, you hope that you've seen a lot of what you're going to see, maybe in a different form.
"When you get to this point, all the teams are good, so you need to just talk to the kids about you just have to go out and you've just got to play the best you can play. You have to give what you can give and let the rest of it take care of itself."
Candor has been using the season to prepare for this weekend.
"When we start off the season in August, we just talk about how our regular season, any games we play or tournaments, it's kind of like our warmup for postseason, and you really want them working toward peaking and really playing their best at the end of the season, and I think we've been doing that," Quinlan said.
"You talk to them about just continuing to do what they've been doing out there, you know, since the beginning of the season and in the last two or three weeks, not to preguess or try to predetermine anything about the other team.
"And again, I think we talked about this going into regionals. You have to just play your role, trust the people around you and believe that what got you there can continue to keep you going."
Quinlan believes the season-long preparation has them ready to compete this weekend.
"We practiced Monday. We did a loose practice. We had a scrimmage on Wednesday and that went well, gave us a chance to just have another team hitting and serving at us so we can work on some things," she said. "They're in a good mood today. We have kind of a shorter practice today and then we're heading out tomorrow. I think they're excited.
"I think, being a teacher in the school, I kind of understand that it's a little tough to keep your mind on day-to-day stuff when you're kind of looking forward to that, so I think they're looking forward to finally getting on the bus, getting there, getting a look at the arena and just being, getting ready to play.
Of course, then comes the task of keeping the players focused on the match and not get overwhelmed or distracted about being on the big stage.
Class D teams will play the final matches of the first day so the Coyotes will have several hours to work on their mental preparation and hopefully not get overwhelmed by the stature of the event.
"I think you do the best you can just to talk to them," Quinlan said. "It's another game. It's another team. Yeah, it's a bigger venue than you've played in, but it's still the same game that you've played. I would expect sometimes at the beginning of it there is a little bit of an overwhelming.
"I think trying to get a look at the arena the night before just to kind of get a feel for the place, feel a bit comfortable going there, and then kind of when you get started, just trying to get them to really just look at the space that they're in and not necessarily the space all around them."
The Coyotes' past trips to Cool Insuring Arena could provide a positive impact.
Senior Grace Hand played on the 2021 team and is the lone returning player from that varsity squad.
"It was so much fun," she said. "I was like the younger person, so I feel there wasn't as much pressure, but it was really fun to be a part of and really special to be on that team and the people that worked on it. Okay.
She has an interesting take on her arrival at the arena.
"It felt kind of like showing up to your favorite concert," Hand said. "It's what you love to do and it's just like, there's so much going on and it's your favorite place to be. It's where you want to make it to at the end of the season."
To her teammates making their first trip to states, she has the following advice.
"We always talk about before games, remembering why we're in the position that we are," Hand said. "We worked for this, we earned it, just the same that the team that we're playing did, so you can't feel pressure because you earned it."
Senior Luci Ray was called up from the JV team to participate in the 2021 tournament and recalls the experience.
"I think I got a little bit of playing time, but it was more just getting the experience of watching it," she said.
One thing she took away from it was "mentally staying together as a team. Watching the varsity girls be able to stay united and not get mentally in their heads was encouraging.
One piece of advice she can offer to the team's tournament newcomers is … "just to play your game and don't get freaked out, and your capabilities. Don't doubt them. Don't let it overwhelm you."
Junior Phoebe Swartz is hoping that the experience her sister, Shelby, who played on both the 2019 and 2021 teams, gained will be a plus.
"I think that her level of competitiveness has rubbed off on me and I see what she has done and I know that I can achieve that for myself," Said Phoebe Swartz, whose sister, Shelby, played on the 2019 and 2021 teams."
Phoebe expects Shelby, now playing at Hartwick College, to be in Glens Falls to offer support.
"She will be there," Phoebe said. "She's going to come this weekend and I think she knows exactly what is going on, so she's really great to talk to about it."
Candor and Chautauqua Lake square off at 7:15 p.m. on Court 1 while local favorite Lake George takes on Tuxedo on Court 2 at the same time. The winners meet Sunday at 2 p.m.
NOTE:
This is a digital ticketed event. For more information on ticketing policies and procedures, visit the NYSPHSAA
Ticketing FAQ
page or contact ticketing@nysphsaa.org.
——————
IN PHOTO 2: Candor's Grace Handy (8) with Brooke Wilcox at the 2021 state semifinals. ... TCSR STOCK PHOTOS.