IAC BOYS SOCCER: TIOGA COUNTY SNAGS 15 ALL-STAR SPOTS
(2023-11-17)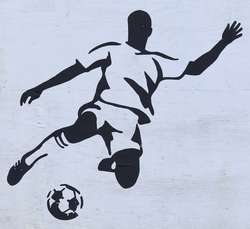 Tioga County Sports Report
TIOGA COUNTY — Tioga County athletes snagged 15 spots on the IAC Boys Soccer All-star teams recently.
Newark Valley had five South Large School picks and Spencer-Van Etten/Candor had four.
NV's first team selections were senior defender Brady Hill, junior forward James Wales and junior midfielder Bela Krenner.
The Cardinals' Zach Brodfuehrer, a senior midfielder, and senior forward Will Craparo were named to the second team.
SVEC senior midfielder Steven Novak, junior midfielder Noah Banks and junior defender Jason Jantz were first team choices.
Making the second team for the Eagles was senior defender Kody Goble.
Tioga, which won the South Small School division, collected six slots. Senior Tyler Roe was named the MVP while senior defender Ethan Landmesser and junior goalkeeper Jake Browne joined him on the first team.
Second team picks for the Tigers were senior defender Brandon Rafferty, sophomore midfielder Brady Landmesser and sophomore defender/midfielder James Miller.
2023 IAC BOYS SOCCER ALL-STARS
South Large School
First Team
MVP:
Nico Potenza, Trumansburg, Sr., F
Jose Neto, Elmira Notre Dame, Sr., M
Jackson Potter, Elmira Notre Dame, Jr., GK
Brady Hill, Newark Valley, Sr., D
James Wales, Newark Valley, Jr., F
Bela Krenner, Newark Valley, Jr., M
Steven Novak, Spencer-Van Etten/Candor, Sr., M
Noah Banks, Spencer-Van Etten/Candor, Jr., M
Jason Jantz, Spencer-Van Etten/Candor, Jr., D
Jack Mulford, Trumansburg, Sr., M
Anthony Blomquist, Trumansburg, Sr., M
Eli Parker, Trumansburg, Jr., D
Second Team
Zach Brodfuehrer, Newark Valley, Sr., M
Will Craparo, Newark Valley, Sr., F
Kody Goble, Spencer-Van Etten/Candor, Sr., D
Jackson Riggins-George, Trumansburg, Sr., GK
Lucas Hunter, Trumansburg, Sr., D
Weston Peake, Trumansburg, Jr., F
Finn Lambro, Trumansburg, Fr., M
Duncan Gattine, Trumansburg, Fr., M
South Small School
First Team
MVP:
Tyler Roe, Tioga, Sr., F
Sawyer Emery, Newfield, Sr., M
Riley White, Newfield, Jr., D
Greg Taylor, Newfield, Jr., M
David Patterson, Odessa-Montour, Sr., GK
Riley Yaw, Odessa-Montour, So., F
Lucas Hoffman, Odessa-Montour, So., F
Ethan Landmesser, Tioga, Sr., D
Jake Browne, Tioga, Jr., GK
Jaymes Forker, Watkins Glen, Sr., D
Liam Smith, Watkins Glen, Jr., F
Aidan Kelly, Watkins Glen, So., M
Michael Purpura, Watkins Glen, So., F
Second Team
Carter Aidun, Newfield, Jr., F
Andrew Brechner, Newfield, So., M
Ryan VandeMark, Newfield, So., D
James Halpin, Odessa-Montour, So., D
Brycen Skinner, Odessa-Montour, So., D
Patrick Croft, Odessa-Montour, So., M
Brandon Rafferty, Tioga, Sr., D
Brady Landmesser, Tioga, So., M
James Miller, Tioga, So., D/M
Salvatore Purpura, Watkins Glen, Jr., D/M
Caleb Bresett, Watkins Glen, So., GK
North Large School
First Team
MVP:
Stephen Geise, Lansing, Sr., D
Jacob Totman, Dryden, Sr., F
Braden Allen, Dryden, Jr., GK
Wyatt Curtis, Dryden, Jr., D
Paul Busby, Dryden, Jr., M
Devin Richardson, Lansing, Sr., D
William Stallone, Lansing, Jr., M
Colin Tarbert, Lansing, Jr., D
Jackson Tarbert, Lansing, Fr., M
Ebon Brown, Union Springs/Port Byron, Sr., M
Tyler Lutkins, Union Springs/Port Byron, Sr., F
George Fearon, Union Springs/Port Byron, Sr., D
Dylan Schoonmaker, Union Springs/Port Byron, Jr., D
Ethan Johnson, Whitney Point, So., F
Second Team
Ethan Gibbs, Dryden, Sr., M
Logan Brunner, Dryden, Sr., M
Peter Nydam, Dryden, Jr., D
Alex Infante, Lansing, Sr., M
Yarden Eynav, Lansing, Sr., F
Bode Petrich, Lansing, Sr., GK
Gavin Marsit, Lansing, Jr., M
Rowan Fox, Lansing, Jr., F
Ahmad Haight, Union Springs/Port Byron, Sr., D
Romario Domingo-Jiminez, Union Springs/Port Byron, Sr.,
Nick Anthony, Union Springs/Port Byron, Jr., GK
North Small School
First Team
Co-MVP:
Bryce Hartman, Marathon, Sr., F
Co-MVP:
Parker Cullen, Southern Cayuga, Sr., F
Jake Byron, Marathon, Sr., D
Braydon Homer, Marathon, Sr., D
Bode Carter, Marathon, Sr., M
Aydan Brown, Marathon, Fr., F
Abram Wasileski, Moravia, Sr., GK
Gabe Lonsky, Southern Cayuga, Sr., D
Aidan Sheils, Southern Cayuga, Sr., D
Nick Pickney, Southern Cayuga, Sr., M
John Kreydatus, Southern Cayuga, Sr., F
Ben Kermidas, Southern Cayuga, Jr., M
Bryce David, Southern Cayuga, So., D/M
Second Team
Camdyn Kashuba, Marathon, So., M
Tucker Trabucco, Marathon, So., D
Dan Merihew, Marathon, So., GK
Colton Oram, Marathon, Fr., D
Jacob Anderson, Moravia, Jr., F
Isaac Brozon, Southern Cayuga, Jr., F
Oscar Morales Perez, Southern Cayuga, Jr., D
Kyler Colton, Southern Cayuga, Jr., M
Manne Vasquez, Southern Cayuga, So., GK
Paul Hayden, Southern Cayuga, So., M
Dani Vasquez, Southern Cayuga, Fr., F
Braxton Young, Southern Cayuga, 8th, M