IAC GIRLS SOCCER: 17 TIOGA COUNTY ATHLETES PICK UP ALL-STAR HONORS
(2023-11-16)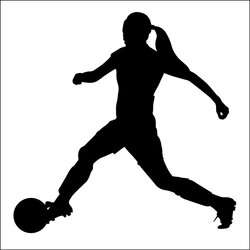 Tioga County Sports Report
TIOGA COUNTY — Tioga County players picked up 17 spots on the IAC Girls Soccer All-star teams recently.
Spencer-Van Etten/Candor and Newark Valley garnered three and two first-team selections, respectively, in the South Large School division.
A pair of SVEC picks came at forward in 8th-grader Allie Lyon and freshman Meredith Stouffer. The Eagles also landed the first-team goalkeeper in junior Hannah Magyar.
SVEC had two second-team picks were junior forward Katie Coppage and sophomore defender Shawna Conklin.
Newark Valley's first-team choices were sophomore midfielder Aubrey Kwiatkowski and junior defender Adrianna Finta.
The Cardinals also had two second-team choices in junior midfielder Livia Short and sophomore defender Anika Smith.
Tioga had seven athletes honored in the South Small School division.
First-team honorees were junior midfielder Erica Bradley, sophomore midfielder Sophia Haney and forward Grace Howey, who was one of just two 7th-graders recognized.
Second-team picks were senior midfielder Elyse Haney, senior defender Kaitlyn Vasey-Hunt, junior keeper Taliah Speer and sophomore defender Emily Zwierlein.
2023 IAC GIRLS SOCCER ALL-STARS
South Large School
MVP:
Lucy Ouckama, Trumansburg, Sr., D
First Team
Amara Lanon, Trumansburg, Jr., F
McKenna Keough, Elmira Notre Dame, Jr., F
Allie Lyon, Spencer-Van Etten/Candor, 8th, F
Meredith Stouffer, Spencer-Van Etten/Candor, Fr., F
Ellie Ouckama, Trumansburg, Fr., M
Aubrey Kwiatkowski, Newark Valley, So., M
MK Young, Elmira Notre Dame, Fr., M
Lenora Reed, Trumansburg, So., M/D
Raya Mount, Trumansburg, Jr., D
Adrianna Finta, Newark Valley, Jr., D
Hannah Magyar, Spencer-Van Etten/Candor, Jr., GK
Second Team
Adah Somers, Trumansburg, Sr., F
Allison Denmark, Trumansburg, So., F
Livia Short, Newark Valley, Jr., M
Anika Smith, Newark Valley, So., D
Amelia Hoffmire, Trumansburg, Fr., GK
Jahmira Maxwell, Elmira Notre Dame, Fo., F/M
Ellie Green, Elmira Notre Dame, So., D
Maddie Fargo, Elmira Notre Dame, Sr., D
Katie Coppage, Spencer-Van Etten/Candor, Jr., F
Shawna Conklin, Spencer-Van Etten/Candor, So., D
South Small School
MVP:
Skye Honrath, Watkins Glen, Jr., F
First Team
Natali Tibbles, Newfield, Sr., F
Sierra Lynch, Newfield, So., F
Ava Kelly, Watkins Glen, So., F
Paisley Jeziorski, Odessa-Montour, Jr., M
Erica Bradley, Tioga, Jr., M
Sophia Haney, Tioga, So., M
Sasha Honrath, Watkins Glen, Sr., M
Grace Howey, Tioga, 7th, F
Rachel Vickio, Watkins Glen, So., D
Natalee Oliver, Watkins Glen, So., D
Lilly Ameigh, Watkins Glen, Sr., GK
Second Team
Aaliyah McCoy, Newfield, Sr., F
Olivia VanSkiver, Watkins Glen, Jr., M
Brianna Hatch, Watkins Glen, So., M
Maggie Pentz, Odessa-Montour, Jr., D
Olivia King, Watkins Glen, So., D
Elyse Haney, Tioga, Sr., M
Kaitlyn Vasey-Hunt, Tioga, Sr., D
Taliah Speer, Tioga, Jr., GK
Emily Zwierlein, Tioga, So., D
Emily Taylor, Newfield, So., D
North Large School
MVP:
Emma Lobdell, Dryden, Sr., F
First Team
Emma Heasley, Lansing, Sr., F
Hailey Jacobs, Lansing, Jr., F
Gabby Sholtz, Union Springs/Port Byron, Sr., F
Izzy Gustavson, Lansing, Sr., M
McKenna Crocker, Dryden, Sr., M
Laci Prignon, Dryden, Sr., M
Abbey Lewis, Whitney Point, Jr., M
Elise Jackson, Lansing, Sr., D
Nicole Morrow, Dryden, Jr., D
Kyla Weiko, Union Springs/Port Byron, Sr., D
Lily Casler, Union Springs/Port Byron, Sr., D
Nasia White, Lansing, 8th, GK
Second Team
Sara Colgan, Union Springs/Port Byron, Sr., F/M
Diyah Rahaman, Lansing, Jr., D
Isa Vence, Lansing, Sr., D
Madeline Zehr, Whitney Point, So., D
Jill Miller, Dryden, Jr., D
Chloe Wilde, Union Springs/Port Byron, Jr., D
North Small School
Co-MVP:
Abby Ensign, Marathon, Sr., D/M
Co-MVP:
Cennedi McCarthy, Southern Cayuga, So., GK
First Team
Marissa Allen, Marathon, Sr., F
Anna Hoyt, Marathon, Sr., M/F
Norah McCarthy, Southern Cayuga, Sr., M
Devyn Blasz, Groton, So., M
Jessalyn Jones, Moravia, Jr., M
Circe Perez D, Southern Cayuga, 12
Sharla Lockwood, Groton, Sr., D
Alycia Orona, Southern Cayuga, Jr., D
Fania Ramirez-Domingo, Southern Cayuga, Sr., D
Megan Howard, Marathon, Sr., D
Brenna VanDee, Marathon, Sr., GK
Second Team
Cece Styker, Moravia, Fr., F
Kennedy Eaton, Marathon, So., F
Addison Oram, Marathon, Jr., M
Mary Kate Vitale, Southern Cayuga, Sr., M
Haylee Young, Southern Cayuga, 7th, M
McKenna Caza, Moravia, Sr., M
Shaelin Phillips, Marathon, Jr., D
Lily Holden, Southern Cayuga, Sr., D
Haeleigh Smith, Marathon, Jr., D
Jillian Zigenfus, Groton, So., D
Stella Holl, Groton, Fr., GK
Honorable Mention
Saree Weed, Moravia, 8th, F
Emily Prince, Southern Cayuga, Jr., F
Sophia Vitale, Southern Cayuga, Fr., M
Erika Black, Southern Cayuga, Jr., D
Alyssa Gettel, Moravia, Sr., D