NYS GIRLS DIVING: OWEGO'S KATCHUK FOCUSING ON MECHANICS HEADING INTO STATE CHAMPIONSHIPS
(2023-11-16)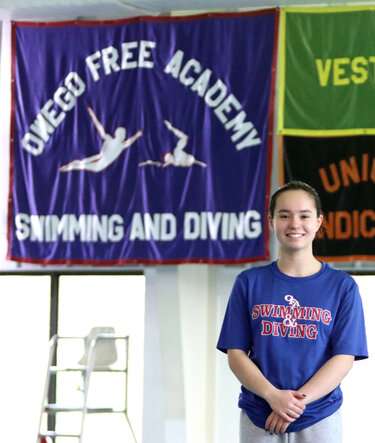 By TIM TAYLOR
Tioga County Sports Reports
OWEGO — Owego's Kaelyn Katchuk will compete in her third NYSPHSAA Girls Diving Championships Friday and her approach to the event appears to be a let the chips fall where they may type of philosophy.
The fourth-seeded junior, hasn't placed any emphasis on where she's seeded, who her toughest competition is or where she and other competitors are seeded. Her priority will be to focus on the mechanics of her sport and, hopefully, the rest will take care of itself.
"I think for every meet I kind of have a routine," she said. "I come over to where I've set all my stuff up and I just try and keep concentrated the whole meet, because it's a long meet, seven, eight hours. If you start to lose focus at the end of the meet, that's when you start messing up.
"I don't really talk that much while the meet's running because I'm really trying to stay focused, but it's also important to be relaxed during the meet and have fun, because when you get too keyed up, you can start to tighten up a bit."
"Our focus is always to do mechanics well," said her coach and father, Roger Katchuk. "If I focus on anything other than that, it doesn't turn out good. It's like in football, if you focus on three-and-a-half yards every play, you're going to have pretty good success, so we do mechanics. We don't try to speculate what place we'd get, what scored we'd get. The judges are different, the pool's different, everybody's different, so we just know that if we dive well good things happen to us."
One area Kaelyn Katchuk has been working on is strength conditioning.
"It's different for every diver, but with Kaelyn it started about a year-and-a-half ago with weightlifting because she just didn't have the power to do the dives to be at the elite level, so she's been in the morning weight room three times a week and weekends out at a club we go to," coach Katchuk said. "She's been lifting weights, she's added on a lot of strength and what that has enabled her to do, dives she was doing in Tuck position she can now do in Pike.
In Tuck position, the legs are bent at the knees and pulled into the diver's chest. The knees are together and the toes are pointed. For dives, the arms are in close to the diver's body with the hands touching the mid-shins. For somersaults, the arms are tight to the diver's body and the hands wrap around the shins.
In Pike position, the body bends at the waist, the legs stay straight, and the toes are pointed. Ideally, the chest should lay flat against the diver's thighs. For elementary dives (forward dive, back dive, etc.), the hands either touch the diver's toes or are in the open pike position; stretched out to the sides of the body forming a hollow T-position. For optional dives, the diver's arms wrap around the lower part of their calves.
Katchuk's high score of 558.8 puts her fourth behind defending champion Rachel Yang of Jericho (599), Corning's Brooke Terwilliger (590.3) and Fredonia's Elizabeth Pucci-Schaefer (579.15), but the Katchuks don't concern themselves with the seeds.
"You can't do anything about the seeding," coach Katchuk said. "Seeding has no relevancy because there's different judges everywhere. If you go to other parts, you're going to see astronomical scores that would win the world championships, but when they go to other parts of the state not so much. In this type of meet, it's all about head-to-head competition. It's who you beat on the day, so the seeding, the scores, who knows what's going on in different places."
"I don't really think the score rankings matter," Kaelyn Katchuk said, "because like my coach said, different judges from around the state throw different scores. I know most of the top girls personally because I know what dives they have and stuff, but I think at the end of the day, if I do all of my dives to the best of my ability, then I will be happy with whatever place I go."
Like Katchuk, Terwilliger has been one of Section IV's top divers in recent years, but there's not really a rivalry between the two.
"I don't think there's any rivalry at all, no, not really a rivalry," coach Katchuk said. "Brooke's a nice kid. We're friendly at meets, they've got a nice coach and I'm pretty sure it's the same thing with Brooke. You do the good mechanics, the rest takes care of itself.
"In diving, it's too complex because you've got to do 11 dives. If you start getting into judging and rivalries and who's there and this and that, then your focus on mechanics goes down and then you're done, so we focus on mechanics. I've been doing it that way for a long time and we've had some success with it, so that's what we do."
During a meet, the coach doesn't concern himself with where she might finish.
"I learned a long ago to alienate from that mindset because I've had coaches that used to," he said. "I had one coach back in the day who used to drink Maalox he'd be so keyed up during meets. He'd have it in his belt … and he'd come screaming at you and it'd be on the sides of his mouth. He goes, 'you divers need to be first and third and fifth,' and he would take a swig of Maalox, and I looked at this guy and I said, 'I will never get that way.'"
"Usually if I have a clean meet I do well," Kaelyn Katchuk said. "It's when I mess up on a few dives, that's when I don't do as well as I wanted."
Kaelyn has broken several records this season, including pool, personal and meet marks, however, she doesn't let those accomplishments get inside her head when it's time to compete.
"In the scheme of things, the meet is only one meet and I've been in so many meets over the course of my career so far," she said. "I think that I'll just do as best that I can in this meet and if I win, I win, if I don't, I don't, but I don't want to have any regrets."
Thirty-four divers qualified for this year's 1-meter springboard competition, which begins at 1:30 p.m. at the Webster Aquatic Center.
NOTE:
This is an all-digital ticketed event on the GoFan platform. Please present your interactive mobile ticket at the gate. Screenshots and printed tickets will not be accepted, and cash sales are not available.
On Friday, swimming preliminary races are ticketed separately from diving. All swimming events on Saturday are sold on a single ticket. Doors will open one hour prior to opening ceremonies each day.
For more information on ticketing policies and procedures, visit the NYSPHSAA
Ticketing FAQ
page or contact ticketing@nysphsaa.org.
——————
PHOTO BY TIM TAYLOR.