IAC GIRLS CROSS COUNTRY: EIGHT TIOGA COUNTY COMPETITORS LAND LEAGUE HONORS
(2023-11-15)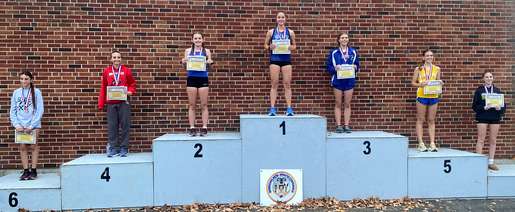 Tioga County Sports Report
TIOGA COUNTY — Tioga County competitors earned eight of 15 spots on the IAC Girls Cross Country All-Star team.
Named to the first team were Newark Valley senior Harley Switzer, who would go on to place 26th at the Class D state championships, Spencer-Van Etten freshman Madelyn Ellison and Candor junior Ayasha Schweiger.
The second team included Candor junior Kristin Baker, Newark Valley sophomores Olivia Vaughn and Brook Illsley, and S-VE junior Kirsten Garrison and sophomore Grace Bishop.
The top seven finishers at the IAC meet were selected to the first team while 8th through 14th places were named to the second team, but this year's all-star group included an additional athlete.
League coaches voted to place Schweiger on the all-star team even though she did not compete in the meet. She was injured in mid-September and was unable to finish the season.
IAC CROSS COUNTRY ALL-STARS
First Team
Olivia Genson, Moravia, Jr.
Kathleen Sullivan, Lansing, Jr.
Evelyn Jackson, Lansing, Fr.
Harley Switzer, Newark Valley, Sr.
Libby Foster, Trumansburg, So.
Madelyn Ellison, Spencer-Van Etten, Fr.
Mayla Falank, Edison, Jr.
Ayasha Schweiger, Candor, Jr.
Second Team
Kirsten Garrison, Spencer-Van Etten, Jr.
Abigail Trabucco, Marathon, So.
Olivia Vaughn, Newark Valley, So.
Brook Illsley, Newark Valley, So.
Samantha Morgan, Southern Cayuga, Fr.
Kristin Baker, Candor, Jr.
Grace Bishop, Spencer-Van Etten, So.