NYS VOLLEYBALL: CANDOR HEADING BACK TO GLENS FALLS
(2023-11-11)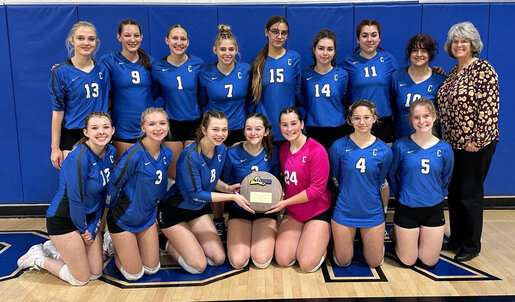 By BRIAN FEES
Tioga County Sports Report
CANDOR — The Candor volleyball team knew they had an advantage playing the regional final in their home gym on Saturday afternoon, and they made the best of it, sweeping their way to the regional crown 25-5, 25-20, 25-8 over Keio Academy.
"It's a game changer," senior Grace Handy said of the home game. "Mrs. Quinlan said she hasn't done it here in her years of coaching and we are just so grateful to have our community behind us. This is our house and we have a lot of people backing us up here."
For Candor, making states is becoming an every other year thing as they have qualified in the past three odd years, winning the state title in 2019, and making the semifinals in 2021.
"It's awesome, it's great, it never gets old," Quinlan said. "This is another group of young ladies who worked hard. I know every team that starts in August works hard. They have been putting it together at the right time.
"Maybe we are hoping we can do even, odd, even a couple times, but we'll take it. It's exciting. It's exciting for the kids. We are excited to make the trip out there and play whoever we need to play and do what we have been doing."
For the players getting back to states was something they had thought about.
"I think it was definitely in the back of our minds and this year we really knew we could pull it off," junior Phoebe Swartz said.
The Coyotes know they have a great fan base, which was behind them throughout the match.
"Our community is just out of this world, we are so grateful for them and they make all the difference," Swartz said.
With the fans behind them the Candor players wanted to play their best.
"You know you are going to have a good fan base here, you want to perform," Quinlan said. "We have great fans. Students, families, fans. It was nice to have it here and we know we are going to bring in a lot of people."
There were some challenges for the Candor players going against a team they haven't seen before.
"It's definitely hard not knowing exactly who it is," Handy said. "We are in a smaller division, we kind of come back and play the same people, so it was definitely difficult. But, we pulled it off."
Candor was facing a Keio Academy team out of Harrison, about three and a half hours away from Candor. So, while the Coyotes didn't know a ton about their opponent, they did know that they may have an advantage early against a team coming off a long bus ride.
"It's tough, you kind of try and find some information, which is difficult, then you say we are going to continue to work on what we've been doing and then just make some adjustments to whatever kind of hitting they have, serving, their defense," Quinlan said. "They had a long bus ride to get here. I think we knew after their first game they were going to work out some of their jitters, and first game things, and come back tough in the second game and they did. We were just able to get another good serving run in the third game and get a little lead. We talked about getting a lead and maintaining a lead."
In that second set Keio had the lead early, going up by as many as four points, but the Coyotes fought back and took control midway through the set.
"I think that's another thing we talked about, you always have to believe," Quinlan said. "Confidence in yourself, in your teammates and believe that it's not over until it's over. Play every ball and know you can come back from three or four or five points down and hold off another team."
Swartz had 11 points, four aces, a kill, a dig and 24 assists, and Kate Stouffer had six points, an ace, five kills and two digs.
Rosie Hurd had three digs and Jill Teribury had seven points and three aces.
Handy had four points, two aces and five kills and Nicola Soper had 11 points, five aces, five kills and three digs.
Emma Kelsey had four digs and Luci Ray had two points and two kills. Emmi Make had nine points, nine kills and two digs.
For Candor it's now onto Cool Insuring Arena in Albany for the Class D semifinals at 7:15 p.m. on Saturday, Nov. 18. They open with Chautauqua Lake the Section VI champ.
"I'm so excited, I can't wait, it's the best weekend," Handy said. "We are ready for it. We have been practicing, this is what we have been working for our whole season."
When this year's upperclassmen were in junior high was when Candor won the 2019 title, and they are hoping to accomplish the same thing this year.
"I grew up looking up to them a lot," Handy said.
And Swartz was there in seventh grade watching her sister win a title as a member of the team and she wants to do the same thing herself this year.
——————
PHOTOS BY BRIAN FEES.