NYS CROSS COUNTRY: S-VE'S GARRISON CLAIMS NO. 9 SPOT AT STATE MEET
(2023-11-11)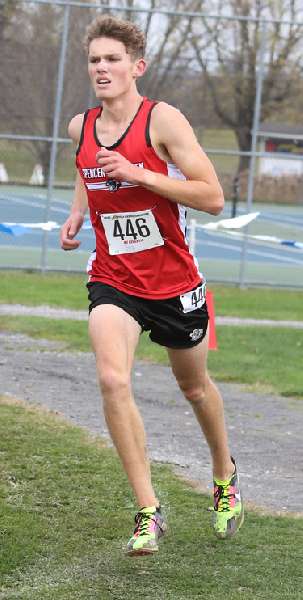 Tioga County Sports Reports
VERONA — Spencer-Van Etten standout John Garrison garnered a 9th-place medal at the 2023 NYSPHSAA Cross Country Championships Saturday.
Of course, that impressive accomplishment wasn't good enough for the senior, who felt he was capable of more on a chilly day on the Vernon-Verona-Sherrill 5K course.
Garrison was looking to place in the top five and had hopes of possibly winning the race, but it would not happen.
Tri-Valley's Van Furman built a solid lead over the field within the first 1,000 meters. He would win by more than 22 seconds.
While Garrison fell short of his goals, his finishing kick was pretty strong. Heading into the final 500 meters, the Panther runner was in 17th place and was still 17th with 400 meters remaining, but that wouldn't last long.
He would finish with a time of 16:48.6, knocking more than 1 ½ minutes off last year's time on the VVS course, in which he placed 38th.
Garrison was the top competitor for the Section IV team, which ended up smack-dab in the middle of the 9-section contingent.
He was one of six Section IV boys medalists on the day with four coming from the Class A ranks.
——————
PHOTOS BY TIM TAYLOR.