NYS CROSS COUNTRY: OWEGO'S CHRYSLER PLACES 8TH AT STATES
(2023-11-11)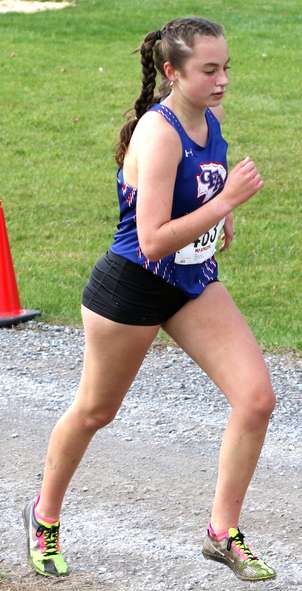 Tioga County Sports Reports
VERONA — Owego's Jaelyn Chrysler doesn't show her emotions on the race course, but her beaming smile during the post-race awards ceremony at 2023 NYSPHSAA Cross Country Championships told the story.
The sophomore standout placed an impressive eighth in the girls Class B race, posting a time of 19:19.6 on a cold day on the Vernon-Verona-Sherrill 5K course.
"I ran a great race," Chrysler said. "I think I definitely ran faster and placed better than I thought I could, so by my expectations, it was a good race."
Chrysler got a good jump off the starting line and worked her way toward the front. With 500 meters remaining, she was in a trio battling for the sixth spot.
Mohonasen junior Rachel Miller had the strongest finishing kick and pulled away to cross the finish line in 19:11.3. Westhampton Beach junior Lily Strebel edged out Chrysler by 1.2 seconds for seventh.
Chrysler, who medaled two years ago at Chenango Valley State Park, was 24th last year at VVS, but made it her mission to return to the podium in 2023. She beat last year's time by more than 1 ½ minutes.
"That was definitely a goal," she said of medaling. "Top 10 was another goal."
Chrysler knew long before the finish was in view that she had a good shot at placing high.
"I would say probably about halfway through I was like, OK, I'm where I want to be. I've just got to hold on."
There were 115 runners in Class B and 464 competitors among the four divisions combined. Chrysler took 30th overall and was one of seven Section IV girls to take home hardware (the top 20 in each classification receive medals).
She was almost 30 seconds ahead of rival Ethne Degan, a senior from Afton/Harpursville/Bainbridge-Guilford who placed ninth in Class C.
The River Hawks' Stella Palladino, a rookie to the cross country circuit, finished 95th with a time of 22:25.7. It was the first state-level long-distance race for the sophomore, who was a state qualifier in the 100-meter dash this past spring.
Owego had two boys competing in the meet as well, also in Class B.
Junior Sully O'Donnell placed 66th with a time of 18:08 and sophomore Javan Belokur was 85th in 18:32.6. O'Donnell finished 83rd last year (19:20.2).
——————
PHOTOS BY TIM TAYLOR.