NYS VOLLEYBALL: CANDOR HOSTING REGIONAL WITH SIGHTS SET ON GLENS FALLS RETURN
(2023-11-10)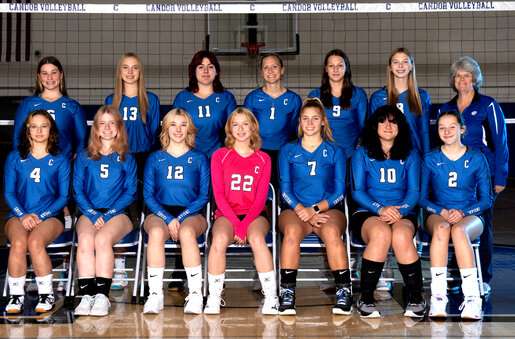 By TIM TAYLOR
Tioga County Sports Report
CANDOR — It's an odd-numbered year. Does that mean the Candor volleyball team will be heading back to Glens Falls?
The Coyotes were there in 2019, winning a NYSPHSAA Class D championship. They went back in 2021, bowing out in the semifinals.
Candor is looking to play in Cool Insuring Arena again this year, but first must get past Keio Academy.
The Coyotes posted a 15-2 record this season, their only losses coming to IAC Large School powerhouse and Class C sectional champion Trumansburg and neighboring rival Spencer-Van Etten in the IAC Small School championship match.
Candor probably doesn't need to make any changes to keep its season going.
"I would say that we need to do what we've been doing all season — playing with passion and sticking together as a team," coach Pam Quinlan said.
"Each athlete needs to play their role and play it to the best of their ability. We, as a team, will need to adjust to the defense being played on the other side of the court and adjust our defense if need be."
Leading the way is junior setter Phoebe Swartz, recently named the division co-MVP.
Senior right side Grace Handy and sophomore outside hitter Nicola Soper were selected as first-team all-stars while second-team picks Kate Stouffer, a junior outside hitter, and middle hitters Luci Ray, a senior, and Emmi Makie, a freshman, make Candor a formidable foe.
Swartz comes in with 453 assists and 213 service points (including 86 aces) to her credit. Soper has 153 kills, 132 points (47 aces) and 61 digs; and Handy has 105 kills and 113 points (48 aces).
Stouffer has contributed 107 kills and 47 digs and 76 points (25 aces). Ray has 139 points (43 aces) 60 kills and 17 blocks (13 solo), and Makie has 108 kills, 125 points (46 aces), 13 blocks (4 solo) and 35 digs.
Little is published about Keio Academy. A private school team, the Unicorns are 4-8, according to
maxpreps.com.
. Keio plays a schedule which includes several opponents from larger classifications.
Candor is hosting two regional matches Saturday and will be playing Keio Academy at noon.
CANDOR ROSTER
Seniors: Grace Handy, Rosie Hurd, Beylah Parillo, Luci Ray
Juniors: Ryleigh Bowman, Andrea Duffy-Fullagar, Keanna Fay, Emma Kelsey, Kathryn Stouffer, Phoebe Swartz
Sophomores: Nicola Soper, Jill Teribury, Bella Miller
Freshmen: Emmi Makie
——————
PHOTO SUBMITTED.