NYS CROSS COUNTRY: OWEGO QUARTET EXCITED TO COMPETE, HOPEFUL FOR SUCCESS
(2023-11-10)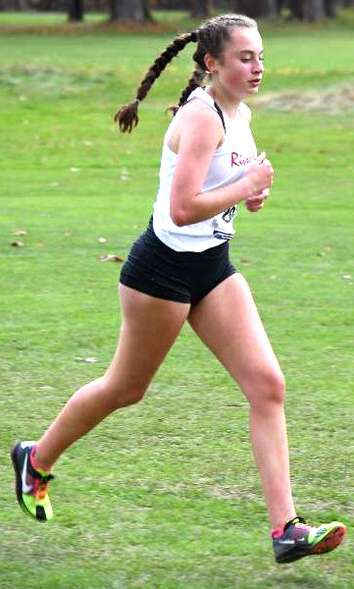 By TIM TAYLOR
Tioga County Sports Report
VERONA — Owego qualified two boys and two girls for the 2023 NYSPHSAA Cross Country Championships, being held Saturday at Vernon-Verona-Sherrill High School.
The group is coming off an impressive showing at the Section IV championships as both teams garnered runner-up honors in Class B.
"We are excited to be representing Owego at the Class B state championship meet on Saturday," Owego coach John Heath said. "The four individuals who qualified for us had ambitious goals for the season and had outstanding performances at the sectional championships.
"Without a senior in the group we are looking to improve on past performances on the VVS course and continue to gain championship experience which is vital for competitive young runners."
The River Hawks' best bet for a high finish is sophomore Jaelyn Chrysler, who won a sectional title and is making her third state meet appearance.
She placed 13th as an 8th-grader (19:46.4) and took 24th on the VVS course last year (20:56.1).
"My goals for the state meet are to get out fast, settle into a nice pack, and catch as many girls as I can in the second half for a gutsy finish," Chrysler said. "Furthermore, I would love a top-10 finish and to medal.
"I'm excited and ambitious to see what I can accomplish as I'm more fit and in the best shape I've been in all season. Overall, I just want to make it a fun experience and enjoy racing with my teammates."
Junior Sully O'Donnell is running his second state meet, having placed 83rd last year (19:20.2).
"I'm really excited for the opportunity to run at states," he said. "It was a fun, exhilarating race last year, though I hope I can have more composure going into states this year.
"It's very exciting to share this experience with Stella, Jaelyn and Javan, and I hope we can represent the team well and show what Owego can do, that's all we can ask for."
Also competing are sophomores Stella Palladino and Javan Belokur.
Palladino is no stranger to state competition. She qualified for states as a sprinter in the spring.
"At states, I'm hoping to use what I've learned all season to run well and it's definitely my goal to run a time close to my PR," she said. "Beating my PR would definitely be a great outcome but overall I'm hoping to run well, take in the experience and definitely have fun with my teammates."
Belokur spent time on the JV squad this fall before working himself into a varsity spot.
"I wasn't really expecting to qualify for states as an individual because I really wanted the team to win. At the beginning of the season I set goals for myself that I definitely overachieved on.
"I am really excited to run at states and have this opportunity as a sophomore. I'll be thinking of my teammates during my race as I am very proud of what we all accomplished this season!"
Chrysler is ranked 11th in Class B girls with a high speed rating of 122. O'Donnell is ranked 62nd (160) and Belokur is ranked 174th (144). Palladino, a cross country rookie, is unranked.
The ladies compete at 12:30 p.m. while the guys run at 2 p.m.
——————
TCSR STOCK PHOTOS.