THE SPORTS REPORTS: WAVERLY'S TOMASSO, CORNING'S LAWSON NAMED ZIFF LAW FIRM REGIONAL 'ATHLETES OF THE WEEK'
(2023-11-10)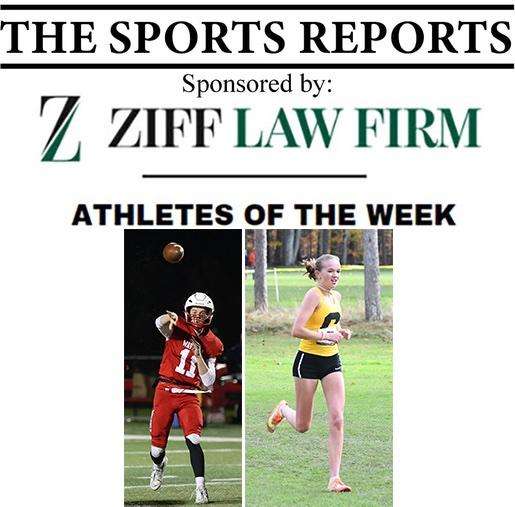 The Sports Reports
Waverly senior
Joey Tomasso
accounted for six TDs to lead Waverly back into the Section IV, Class C championship game, while Corning senior
Sarah Lawson
was dominant at the Section IV Cross Country Championships. They are
The Sports Reports
/
Ziff Law Firm
Regional "
Athletes of the Week
," for the week ending Nov. 4.
WAVERLY'S TOMASSO NAMED ZIFF LAW FIRM REGIONAL BOYS "ATHLETE OF THE WEEK"

Tomasso tossed five TD passes, and ran for another score to lead the Wolverines to a 55-0 win over Susquehanna Valley in the Section IV, Class C semifinals.
Tomasso completed 20 of 27 pass attempts for 357 yards, including 306 yards and four TDs in the first half. His TD passes were for 27, 5, 10, 52, and 5 yards, and his TD run was for 1 yard.
Tomasso has thrown for 2,240 yards and 33 TDs this season.
Honorable Mentions:
Elmira's Evan Garvin (football), Newark Valley's Dan Truesdail (football), Troy's Clayton Smith (football), Cowanesque Valley's Kristian Mizdail (cross country).
CORNING'S LAWSON NAMED ZIFF LAW FIRM REGIONAL GIRLS "ATHLETE OF THE WEEK"

Lawson had a dominant day at the Section IV Championships at Chenango Valley Park last week.
Lawson won the Class A title in 18:27.40. Only runner-up Tsadia Bercuvitz, who was 10 seconds back, was within 90 seconds of Lawson.
In the merged results, which included 181 runners between the four classes, only Bercuvitz was within 70 seconds of Lawson, who was the only winner of any class to be under 19:30, and she went under 18:30 on the day.
Lawson's time was fast enough it would have put her 47th in the boys merged race in a field of 241 boys.

Honorable Mentions:
Waverly's Olivia Cheresnosky (swimming), Waverly's Elizabeth Vaughn (cross country), Owego's Sophia Lee (swimming), Wyalusing's Megan King (cross country), NEB's Emma Neuber (volleyball), Horseheads' Sibby Lowe (swimming), and Cowanesque Valley's Maggie McClaren (volleyball).