NYS CROSS COUNTRY: NEWARK VALLEY'S SWITZER READY TO REALIZE GOAL
(2023-11-10)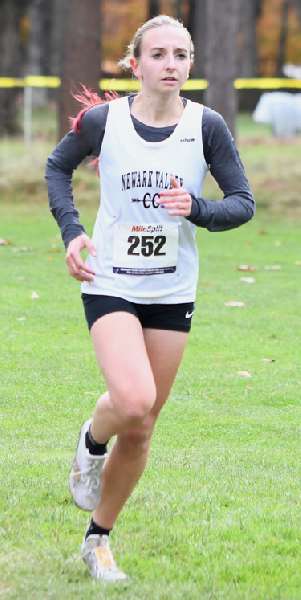 By TIM TAYLOR
Tioga County Sports Report
VERONA — Newark Valley senior Harley Switzer achieved a goal eight days ago when she placed fourth in the girls Class D race at the Section IV Cross Country Championships.
She will realize that goal Saturday morning at the 2023 NYSPHSAA Cross Country Championships being held at Vernon-Verona-Sherrill High School.
"I'm not entirely sure what to expect tomorrow, I have never been to states before," Switzer said. "I am extremely excited for this opportunity to race with some of the top athletes in the state, and also excited to have reached this point. It has been a goal of mine to run at states since I was a freshman, and reaching that goal my senior year is so exciting."
"We are very excited that Harley has qualified for the state meet," NV girls coach Tracey D'Arcy said. "She has shown improvement over the last two years which has culminated with her sectional performance. She set a goal last spring to run at states, took all the right steps to obtain that goal and is now looking forward to Saturday.
Switzer posted a time of 21:17.3 at Chenango Valley State Park, clipping 74 seconds off her 2022 time and more than two minutes off her 2021 time on the same course. She placed 15th and 30th, respectively, those years.
She didn't get an opportunity to try and qualify for states as a freshman in 2020 due to the COVID-19 pandemic.
Switzer's cross country career at Newark Valley dates back to 2018. She was a member of the modified team in seventh and eighth grade.
"We as coaches could not be prouder of her accomplishments and will miss her immensely next year but cannot wait to watch her continue her running career at Cortland," D'Arcy said.
Switzer's race begins at 9:30 a.m. and temperatures are expected to be in the low 30s at race time.
——————
TCSR STOCK PHOTO.