NYS CROSS COUNTRY: S-VE'S GARRISON LOOKING TO FINISH STRONG
(2023-11-09)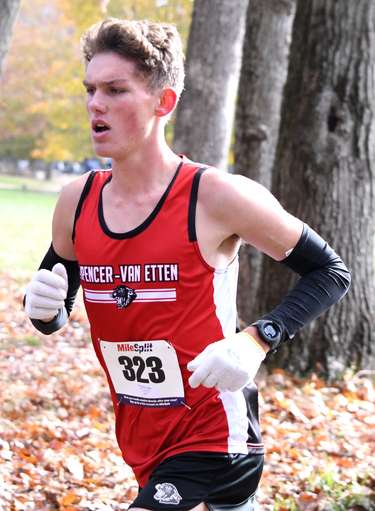 By TIM TAYLOR
Tioga County Sports Report
VERONA — Spencer-Van Etten's John Garrison has one of the most impressive finishing kicks in the entire state. That trademark ending could be the key to where he finishes at the 2023 NYSPHSAA Cross Country Championships being held at Vernon-Verona-Sherrill High School Saturday.
"I feel pretty confident heading into this race," he said. "Running the course last year and knowing what to expect this time around helps with the confidence. I believe I haven't run my fastest race yet this season and am looking forward to running with a fast group of guys. The competition at the top of the race is stacked, so I'd like to finish at least in the top five, potentially win the race, we'll see what goes down on race day."
Garrison, a senior, is ranked eighth in Class D Boys with a high speed rating of 177.
"I'm looking forward to seeing how John performs Saturday," S-VE coach Kyle Holmes said. "He's been training hard since the summertime, and the growth he's made between this season and last hasn't gone unnoticed. He's always been a strong runner but the biggest changes I've noticed besides the faster times are his mindset and race preparation.
"I think his expectations for this race are reasonable and I'm eager to see the finish. If it's a tight group, he has a great finishing kick so hopefully he can pass a few guys before the line.
"Regardless of the outcome though, we're proud of John for all he's achieved this season and in his high school running career up to this point. He's represented our program well and it's great seeing a young athlete have the level of success that he's had when you know the amount of work that was put in to get here."
Garrison's fastest 5K this season was a 15:51 at Owego. He set a course record at the Tioga dual meet and won the triple crown — IAC South division, IAC overall and Section IV Class D championship.
Last year, Garrison placed 38th in Class D with a time of 18:24.1.
The Class D boys race begins at 11 a.m.
——————
TCSR STOCK PHOTO.