THE WEEK AHEAD: IT'S GOING TO BE SLOW UNTIL SATURDAY, THEN LOOK OUT
(2023-11-06)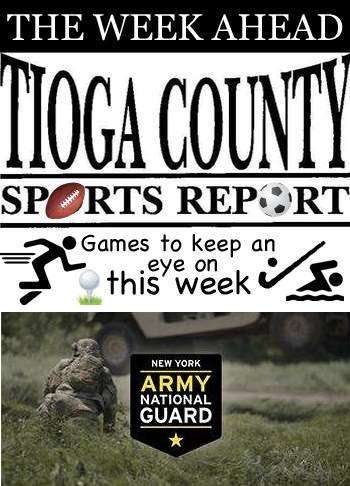 Tioga County Sports Report
TIOGA COUNTY — It's going to be a slow week until Saturday, then things get a little crazy. The long-distance runners will vie for honors at the NYSPHSAA Cross Country Championships in the Syracuse area while Section IV will host NYSPHSAA volleyball regionals. The Section IV Class B football champions will also be crowned.
The day begins early with cross country starting at 9 a.m., Class D volleyball at noon, Class A volleyball at 2 p.m. The gridiron action, involving Owego, starts at 3 p.m.
CROSS COUNTRY
State championships:
Owego has four runners competing on the Vernon-Verona-Sherrill 5K course while Newark Valley and Spencer-Van Etten have one apiece.
Athletes and their race times are: Harley Switzer, Newark Valley, Class D, 9:30 a.m.; John Garrison, S-VE, Class D, 11 a.m.; Jaelyn Chrysler and Stella Palladino, Owego, Class B, 12:30 p.m.; Sully O'Donnell and Javan Belokur, Owego,Class B, 2 p.m.
NOTE:
Waverly's Elizabeth Vaughn is competing in the girls Class C race.
VOLLEYBALL
Class D regional:
Candor (15-2) will host the winner of Section I champion Tuxedo (16-4) and Section IX champion Keio Academy (5-10).
Realignment by the state to add a Class AAA division has left Section I with two Class D schools and Section IX with four. Only one Section I squad and two Section IX teams competed in postseason play.
The winner of Saturday's regional advances to the semifinals Nov. 18 at Cool Insuring Arena in Glens Falls. Pool play has been replaced by bracket play and the Class D semis match will be played at 7:15 p.m.
Class A regional:
Owego will face the subregional winner, either Section I champion Byram Hills (12-5) or Section IX champ Wallkill (15-1) at 2 p.m. at Chenango Valley High School.
Regional winners advance to the semifinals Nov. 18 at Cool Insuring Arena in Glens Falls. The match will be held at 12:30 p.m.
FOOTBALL
Class B semifinals:
Owego (5-4) meets defending state champion and top-ranked Maine Endwell (9-0) at Vestal at 3 p.m.
M-E, which has won 31 consecutive games, defeated the River Hawks, 69-0, during the regular season.
NOTE:
Tioga and Waverly will defend their sectional titles as well. The Tigers play Friday at 5 p.m. at Johnson City and the Wolverines take the field at noon Saturday at Vestal.