SECTION IV GIRLS SWIMMING & DIVING: OWEGO'S LEE WINS CLASS B BACKSTROKE TITLE
(2023-11-04)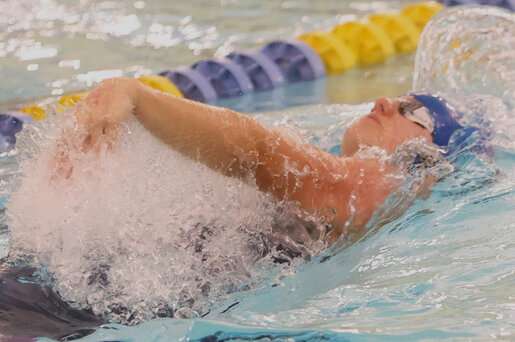 Tioga County Sports Report
ENDWELL — Owego's Sophia Lee edged out a former teammate to win the 100-yard backstroke at the Section IV Girls Swimming & Diving Championships at Maine-Endwell Saturday.
The Waverly transfer, seeded second behind the Wolverines' Olivia Cheresnowsky, posted a personal best time of 1:03.07, touching the wall a half a second ahead of Cheresnowsky.
Lee joins junior diver Kaelyn Katchuk as a sectional champ, who won her fourth straight 1-meter springboard title Friday.
A sophomore, Lee entered the preliminaries Wednesday with a seed time of 1:05.23, four seconds behind Cheresnowsky, but closed the gap to 4/10ths of a second in the prelims, clocking 1:04.21.
Lee would also place fourth in the 50 freestyle with a time of 26.01 seconds.
Ava Murphy would add a runner-up showing in the 100 butterfly with a time of 1:03 and took third in the 200 individual medley, clocking 2:24.91.
The River Hawks garnered a trio of fifths — Olivia Schrader in the 100 breaststroke (1:19.2), and the 200 medley relay (2:03.49) and 200 freestyle relay (1:51.51). Schrader teamed with Lee, Murphy and Cecilia Clair in both relays.
Schrader was also seventh in the 200 IM (2:34.97) while the quartet of Liz Williams, Sydney Shoen, Isabelle Taylor and Natalia Nowetner were eighth in the 400 free relay (5:09.26).
In the "B" finals, Williams placed 12th in the 200 free (2:28.79) and 15th in the 500 free (6:51.88), and Clair took 14th in the 500 free (6:51.31) and 15th in the 200 free (2:28.79).
——————
IN PHOTO 1: Owego's Sophia Lee. ... PHOTOS BY ANTHONY GOSS.