SECTION IV VOLLEYBALL: CANDOR CAPTURES CLASS D CHAMPIONSHIP
(2023-11-04)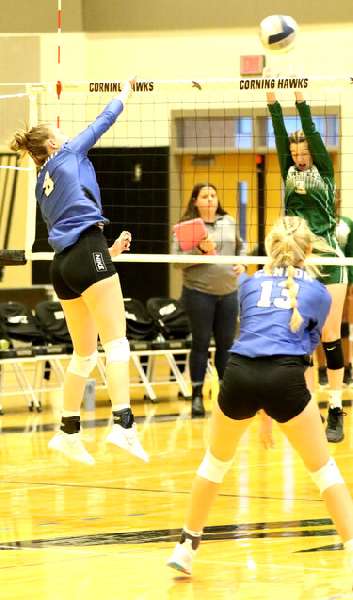 Tioga County Sports Report
CORNING — Candor added another Section IV championship to its resume Saturday, sweeping Newfield, 3-0, to claim the Class D title.
The Coyotes won by scores of 25-16, 25-13 and 25-12.
Phoebe Swartz dished out 29 assists to go with nine service points, including three aces, four kills, two digs and one block assist. Grace Handy contributed 14 points, eight kills and four digs. Emmi Makie chipped in with 11 kills, three points, two digs and one block assist.
Nicola Soper recorded nine points (1 ace), five kills, seven digs two assists and one solo block; Kate Stouffer had eight kills, three points and one dig; Jill Teribury pitched in with four points (1 ace), three digs and one assist; Luci Ray registered six points (2 aces) and one dig; and Emma Kelsey and Ryleigh Bowman added three and two digs, respectively.
The Coyotes have gone 46-12 since COVID-19 wiped out the 2020 season. They reached the state semifinals in 2021 and last won a state championship in 2019.
Candor (15-2) will host an opponent to be determined in regional play Saturday at noon.
——————
PHOTOS BY SHEILA SUTTON.
...click here for video or photo gallery