SECTION IV FOOTBALL: NEWARK VALLEY LOOKING TO AVENGE LOSS TO DELHI IN CLASS D SEMIS
(2023-11-04)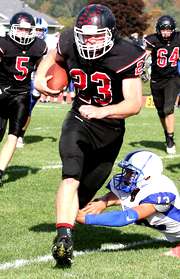 By TIM TAYLOR
Tioga County Sports Report
CONKLIN — Newark Valley will be looking for a little payback when it faces state-ranked Delhi in the Section IV Class D semifinals at Susquehanna Valley this afternoon.
The Cardinals twice held 7-point leads over the once-beaten Bulldogs when they met two weeks ago, but in the end came out on the short end of a 21-14 decision.
Delhi (8-1) comes ranked sixth in the state and riding a five-game win streak while NV is looking to snap a two-game slide.
The Cardinals (4-4) will need another big game out of running back Dan Truesdail, who was a workhorse in the first clash between the two, lugging the ball 24 times for 119 yards and scoring two touchdowns.
NV had 194 yards offense in that game with zero yards passing.
Newark Valley will need other players to step up on offense this time around and the defense will need to post another solid performance.
Truesdail leads the offense with 688 yards on 125 carries (5.5 yards per rush) while Landon Rhodes is averaging 5.86 yards per carry (51-299).
Kaiden Pado, Nate Hinckley and Cooper Davis have combined for another 514 yards on the ground.
Hinckley and Zach Cornell were sharing the quarterback duties, but Cornell, who does most of the passing, has missed the last three games due to injury.
Delhi, whose only loss came against defending state champion Tioga, spreads its offensive success among a quartet of backs — QB Charles Haight, and running backs Tanner Bracchy, Noah Dungan and Sam Davis — and wide receiver Angelo Krzyston. THat group accounted for all but 12 of the Bulldogs' 333 yards in the win over NV.
Defensively, the Cardinals are led by Truesdail as well. He has 53 tackles with three for a loss, one sack, two forced fumbles and one interception.
Gabe Merrill has 44 tackles in seven games, Pado has 41, Titus Callahan has 36 in six games, has 35 and Davis has 33.
Pado has a pair of fumble recoveries to his credit while Davis has recorded seven tackles for losses.
——————
IN PHOTO: NV's Dan Truesdail. ... TCSR STOCK PHOTO.