ON TAP TODAY: POSTSEASON TRIO MAKES FOR EXCITING DAY
(2023-11-04)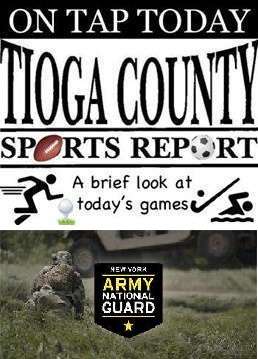 Tioga County Sports Report
TIOGA COUNTY — A trio of postseason events, including two which will determine Section IV champions, make for an exciting day of athletic activity.
FOOTBALL
Newark Valley (4-4) vs Delhi (8-1), 3 p.m.:
NV come sin as the third seed while the second seeded Bulldogs are riding a 5-game win streak, including a recent come-from-behind victory over the Cardinals.
GIRLS SWIMMING
Owego at Class B championships, 4 p.m.:
The River Hawks have qualified for the sectional finals at Maine-Endwell in nine of 11 events with Sophia Lee and Ava Murphy among the higher seeds.
VOLLEYBALL
Candor (14-2) vs. Newfield (9-4), 4 p.m.:
The IAC Small School rivals meet on the court at Corning High School to determine the Section IV Class D champion. The Coyotes won two previous meetings this season and won both sets in pool play action.