SECTION IV GIRLS DIVING: OWEGO'S KATCHUK REPEATS AS CLASS B CHAMP, YOUNG PLACES THIRD
(2023-11-03)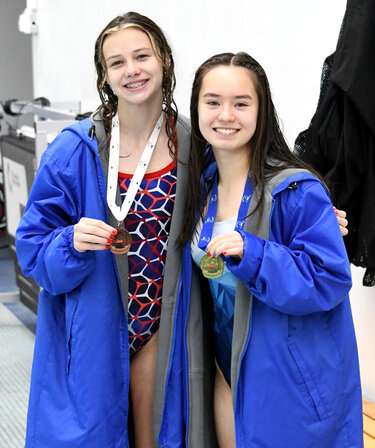 Tioga County Sports Reports
ELMIRA — Owego's Kaelyn Katchuk repeated as the Section IV Class B girls diving champion Friday — and set the pool record in the process.
Although the new mark of 542.1 only lasted about five hours, it's another feather in the cap of the River Hawk junior, who has set records at several venues this season. Her score also surpassed the Class B record of
507.4 points she set at last year's meet.
Katchuk, the Section IV record holder for six dives, had her morning mark eclipsed by Corning's Brooke Terwilliger, the section's 11-dive record holder.
Terwilliger, who held the Elmira pool record when the day started, grabbed it back in the Class A competition in the afternoon with a score of 589.85.
Owego's Ayla Young grabbed the bronze in Class B with a score of 412.05. Maine-Endwell's Maddi Morris was the runner-up with a 453.1.
Johnson City's Alyssa Kelleher was fourth with a 371.05. M-E divers Krista Sanshyn (320.9), Jacqueline Blight (311.2), Charlotte Brady (289.9) and Cameron Salmon (283.3) finished fifth through eighth, respectively.
——————
IN PHOTO 1: Owego's Ayla Young (L) and Kaelyn Katchuk. … PHOTOS BY BRIAN FEES.