SECTION IV FOOTBALL: OWEGO GETS SECOND CRACK AT WINDSOR
(2023-11-03)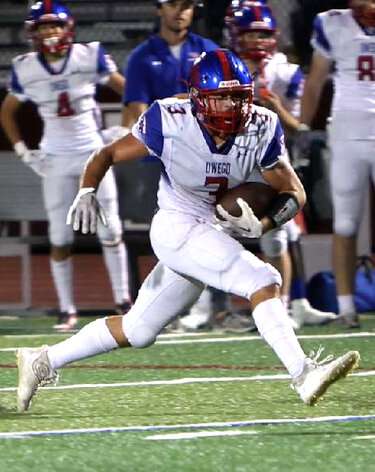 By TIM TAYLOR
Tioga County Sports Report
WINDSOR — The first time Owego and Windsor met, Black Knights running back / linebacker Mason McCombs dominated the first-half action en route to a 12-7 victory.
The River Hawks made some adjustments and kept McCombs in check a little better after intermission on a rainy Saturday afternoon, but a sputtering offense managed to put the pigskin in the end zone just one time.
That won't cut it if the third-seeded Hawks hope to knock off the second-seeded Knights in the Section IV Class B semifinals tonight.
McCombs, Windsor's workhorse, rushed for 157 yards on 28 carries and scored one touchdown, gaining the majority of his yardage before intermission.
He was also a menace on the other side of the ball, making several big plays as the River Hawks' run-oriented offense was held to 140 total yards, 93 coming on the ground.
Owego did make some adjustments at the half to try to neutralize McCombs, who did most of his damage on defense in the first 24 minutes of the game. The Hawks had just 44 yards offense in the first two quarters and only 10 came via the run.
In the first game, Brendan Schofield finished with 58 yards rushing on 24 carries and Conlan Taylor added 31 on six runs, including a touchdown. Elijah Lewis went 5-for-15 through the air for 47 yards with Evan English grabbing three passes for 28 yards.
That quartet, along with Joseph Palladino and Jack Buchsbaum, need to make solid contributions of Owego hopes to have any chance at posting an upset.
While the Owego offense has been inconsistent throughout the season, the defense has week-to-week improvement. Still, the Knights average close to 30 points per game, so holding them to a dozen a second time will be a challenge.
Both teams come into the game with 3-2 records in Division III, however, Windsor is 7-2 overall and ranked 29th in the state while the River Hawks are 4-4.
——————
IN PHOTO: Owego's Joseph Palladino made the switch from soccer to football this season and has been a key contributor for the River Hawks. ... TCSR STOCK PHOTO.