IAC BOYS SOCCER: SVEC TAMES ODESSA-MONTOUR
(2023-09-15)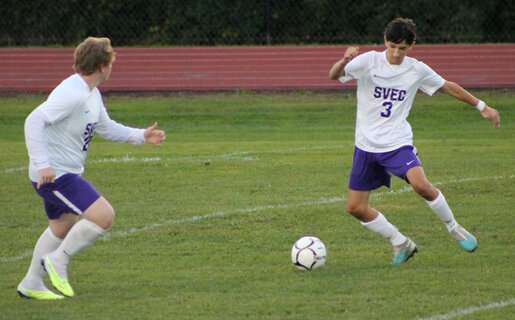 Tioga County Sports Report
ODESSA — Steven Novak and Noah Banks scored two goals apiece as SVEC tamed the Odessa-Montour Grizzlies, 4-0, in IAC boys soccer action Friday night.
Novak scored in the 27th minute, then again in the 36th to give the Eagles a 2-0 lead. Banks accounted for the assist on both goals.
In the second half, Banks tallied in the 15th minute, then again in the 27th to double the advantage. Kody Goble assisted on both goals.
"Proud of the boys for starting the game with intensity and never letting down," SVEC co-coach Jason Banks said.
The Eagles held an 18-5 advantage in shots while Odessa took a 5-4 edge in corner kicks.
Sirron Irvin made two saves in goal for SVEC while David Patterson had a dozen for the Grizzlies.
SVEC (4-1) heads to Trumansburg (2-0-1) Monday.
——————
PHOTOS BY DANIELLE BANKS.