IAC GIRLS SOCCER: SVEC FALLS TO TIOGA ON TIGERS' NEW TURF
(2023-09-11)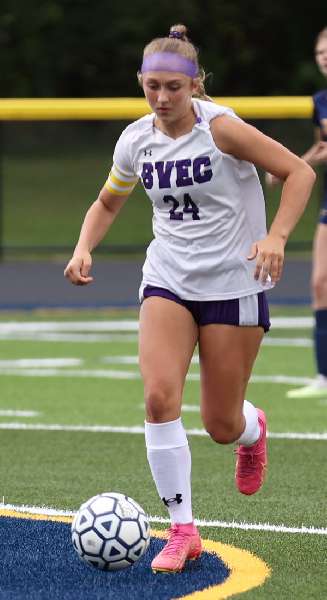 Tioga County Sports Report
TIOGA CENTER — The SVEC girls soccer team helped Tioga christen the new artificial turf at Haggerty Field Monday. However, the Tigers were not very gracious hosts, posting a 4-1 IAC victory behind a pair of goals from Sophia Haney.
The Eagles' Meradyth Stouffer scored the first goal from approximately 20 yards away at 35:49.
Less than 1 ½ minutes later, the game was tied as Haney scored on a pass from Grace Howey at 34:26.
The Howey-to-Haney hookup occurred again 85 seconds later to give Tioga a 2-1 edge.
Erica Bradley's direct kick from 35 yards away made it 3-1 with 22:19 remaining in the first half.
Marcy Moniz managed to put a ball through the keeper's hands for a 4-1 advantage with 19:23 remaining in the half.
The second half was a scoreless battle.
"We started possessing the ball better in the second half and were able to get some shots on goal, but we couldn't find the back of the net," SVEC coach Megan Friscia said. "It was a physical game on both sides."
SVEC had a 14-9 lead in shots and Tioga had an 8-4 advantage in corner kicks.
Tioga's Taliah Speer collected eight saves in goal and Lindsey Morse had four for the Eagles.
SVEC (0-2) hosts Trumansburg Tuesday at Candor.
——————
IN PHOTO 1: SVEC's Meradyth Stouffer. ... PHOTOS BY TIM BIRNEY.