NY STATE GIRLS WRESTLING: OWEGO'S CRAFT GRABS THE BRONZE AT NYSPHSAA INVITATIONAL
(2023-01-27)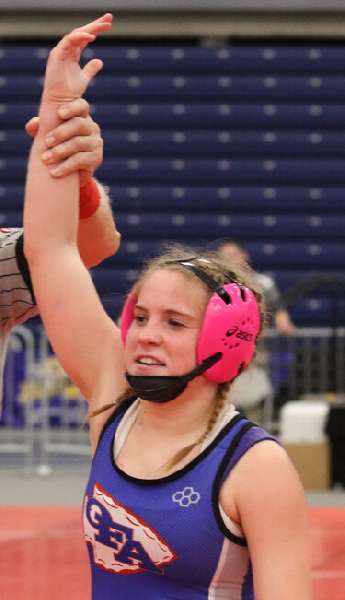 By TIM TAYLOR
Tioga County Sports Report
SYRACUSE — Owego freshman RaeAnn Craft reeled off four consecutive victories to capture third-place honors at the inaugural NYSPHSAA Girls Wrestling Invitational Saturday.
Craft, seeded seventh, earned the bronze with a fall against Kiera Filip of Minisink Valley in 2:39 in the consolation finals.
Craft said it felt "pretty great" to come away from this tournament with a third-place showing.
"I lost a match that was really close to me with my friend Teegan (Sibble) in the quarters and it just feels really good to come back and just feel the place and stand on the podium next to her, and watch her shine," she said.
"I think she wrestled really well," Owego coach Nick Rodgers said. "She should be happy, going 5-1. She lost one in the quarterfinals to a good wrestler who's in the finals.
"She put together a good wrestleback. She beat a wrestler that she lost to two weeks ago down at Eastern States. She just wrestled really tough the whole way back.
That final win came following a hard-fought 3-0 decision over Savannah Tittelback of Saugerties in the consolation semifinals.
Craft began her trek through the wrestlebacks by pinning Riley Butler of West Genesee in 2:43 and Maleah McKinney-Updegraph frim Lockport in 3:51.
The day began with Craft dispatching Corning's Kaegan Rhodes in 3:16.
In the quarterfinals, she took on second-seeded Teegan Sibble from Bolivar-Richburg. Sibble won by fall in 1:24 and went onto place second, dropping a 2-0 heartbreaker to the top seed in the finals seconds of the championship bout.
Craft was not about to let that setback spoil her day.
"Ever since I was little, when you lose you've just got to pick your head up and move to the next match and don't let it bother you," she said. "Don't let it get you down on yourself and you just gotta, I mean, every match is a new match. It starts zero-zero.
"The girl across the mat has to wrestle me and that's my mindset — that they have to wrestle ME — not who they are, what they do, what they run, just that they have to get through me, so that's just been my mindset going through the matches today and the consolations."
Rodgers was not the least bit surprised that Craft broke seed and reached the No. 3 spot on the podium.
"We came in knowing that she was, maybe, a little underseeded, so we expected her definitely to be one of the top competitors in the weight, and she proved that," he said.
NOTE:
Tioga's Emily Sindoni, ranked No. 1 in the nation at 126, won the 132-pound championship and Waverly's Mackenzie LaForest was the champ at 235.
——————
PHOTOS BY TIM TAYLOR.
...click here for video or photo gallery