IAC GIRLS BASKETBALL: CANDOR FALLS TO STATE-RANKED UNION SPRINGS
(2023-01-21)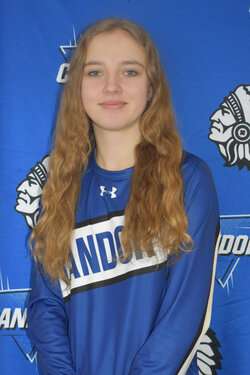 Tioga County Sports Report
CANDOR — Unbeaten Union Springs, ranked No. 2 among the state's Class C teams, cruised to a 68-28 IAC girls basketball win over Candor Friday night.
The Indians managed to hold an early lead on an Emmi Makie free throw and a Nicola Soper bucket on their first two possessions, but the Wolves came storming back, pumping in 30 points before the end of the first quarter.
The Indians recovered in the second frame, keeping pace with eight more points to the visitor's nine. Union Springs entered halftime up 39 -15.
Candor's defensive woes returned in the third quarter as the Wolves added 18 more to the scorebook, while the Indians put in six.
The final frame saw Union Springs (14-0) best Candor, 11-7.
Madison Kalet and Payton Gilbert shared scoring honors with 16 points each.
Candor was led by Emmi Makie's 15, to which she added two steals. Nicola Soper contributed five points and 10 rebounds. Francesca Viscuso added two baskets, Maggie Jennison hit a three pointer, and Hazel Ray made a free throw to round off Candor's scoring. Ray added eight rebounds and two assists to her stat line.
Candor (2-9) returns to action next Friday at Spencer for a divisional rematch.
——————
IN PHOTO: Candor's Emmi Makie. ... TCSR STOCK PHOTO.