STAC WRESTLING: OWEGO'S MONELL, STRUBLE ADVANCE TO CONFERENCE SEMIS
(2023-01-21)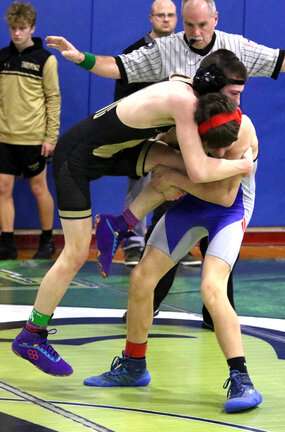 Tioga County Sports Report
OWEGO — Owego's Bobby Struble and Collin Monell won their quarterfinal bouts at the STAC Wrestling Championships Friday evening and have advanced to Saturday morning's semifinals.
Struble, seeded second at 160 pounds, pinned Vestal's Jayden Harding in the quarterfinals. He faces Horseheads' Liam Levantovich, the three seed, in the semis.
Collin Monell, the No. 4 seed at 110, pinned Dalton Webb of Corning in the quarters. He takes on top-seeded Ryan Ferrara from Chenango Forks in the semis.
Jozsiah Varga-Flynn (145) pinned Yadier Richard of Johnson City in the first round, but lost to Logan Bruce of Corning in the quarters. He faces Binghamton's Robert Archie in the wrestlebacks.
Gairit Hodson (138) lost to Nate Murphy from Windsor in the quarters and will meet Binghamton's Andreas Lloyd in the wrestlebacks.
John Swackhammer (152) fell to Logan Barnes of Union-Endicott in his opener and takes on Matt Brown of Elmira in the wrestlebacks.
At 189, Merrick Birchard lost to Maine-Endwell's TJ Serkiz while Aden Rhodes fell to Norwich's Braden Reid. In the wrestlebacks, Birchard meets U-E's Lucas Broder and Rhodes wrestles Elmira's Zahkye Jenkins.
Seth Brink lost to Jayden Zakala at 215 and meets the winner of Chenango Valley's Cooper Jones and U-E's Carlos Morales-Gonzalez in the wrestlebacks.
Trevor Decker (285) fell to Qymani Viera-Powell of U-E in his opener and will take on Windsor's Luke Beattie in wrestleback action.
Wrestling resumes Saturday at 9 a.m. There will also be a girls tournament and a JV tournament. A youth tournament will be held Sunday.
NOTE:
Team scores were not available at time of publication.
——————
IN PHOTO 1: Owego's Collin Monell (R). ... PHOTOS BY TIM TAYLOR.