IAC WRESTLING: TOO MANY FORFEITS SEAL SVEC'S FATE
(2023-01-19)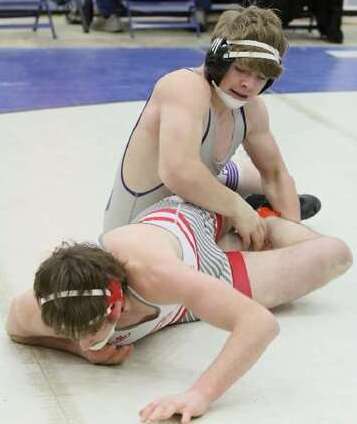 Tioga County Sports Report
WATKINS GLEN — Schuyler took advantage of a 24-point bonus in forfeits to defeat SVEC, 42-28, in IAC wrestling action Wednesday evening.
The Storm received five forfeit wins to one for the Eagles, a difference of 24 points.
SVEC earned a trio of falls and a major decision.
At 118 pounds, Kaleb Soto decked Riley Yaw in 1:19.
Kamren Westbrook dispatched Brandon Davis in 1:44 at 132.
Shane Neal (138) pinned Balan Ault in 1:14.
John Johnstoncontributed a 15-1 major decision over Tristan Harrington at 172.
The Eagles' other win was a forfeit to Brennan Zimmer at 102.
SVEC competes in the IAC championships at Waverly Saturday.
——————
IN PHOTO: John Johnston. ... TCSR STOCK PHOTO.