IAC BOWLING: NEWARK VALLEY SPLITS WITH ELMIRA NOTRE DAME
(2023-01-18)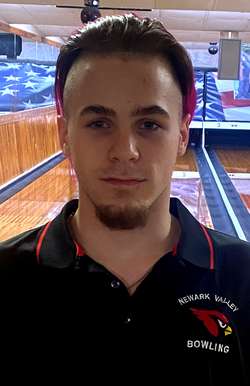 Tioga County Sports Report
ELMIRA — The Newark Valley boys bowlers registered another 4-0 sweep in IAC Division 1 action Tuesday, this time downing Elmira Notre Dame.
In the girls match, ND posted a 3-1 victory.
BOYS
Six Cardinals recorded 200-plus games in the win.
Tony Zukowski rolled a 258-579, Jon Umiker had a 215-555, John Fiacco shot a 234-547, Brandon Eynon added a 202-543 and Lane Underwood chipped in with a 230-541.
Barden Hines tacked on a 148-426.
NV won over a short-handed Crusader by scores of 916-568, 951-651 and 904-579, and took the total pinfall, 2771-1798.
Conner Ryan led Notre Dame with a 205-564.
GIRLS
In a relatively close match, the Crusaders won the total pinfall, 1940-1914. ND took the first two games, 682-638 and 679-632, but the Cardinals took game three, 644-579.
Rachel Hartman scored a 179-463, Alyssa Brown chipped in with a 137-372 and Madi Davis had a 130-370.
Lexi Rosengrant had a 147-363, Emily Bird added a 118-313 and Casidy Downey added a 132-293.
ND's Jade Nordin was the top bowler with a 189-474.
Newark Valley hosts Waverly Thursday.
——————
IN PHOTO 1: NV's Tony Zukowski. ... PHOTOS BY TIM TAYLOR.