STAC WRESTLING: NUMBERS GROW ON OWEGO MATS
(2022-11-24)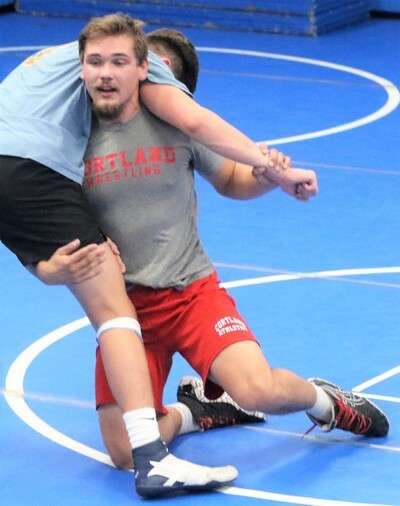 By TIM TAYLOR
Tioga County Sports Report
OWEGO — Growing numbers and only one key graduation loss have Owego wrestling coach Nick Rodgers feeling pretty good about the upcoming campaign.
The Indians had just 10 grapplers who had 15 or more matches last season. Only six competed in 20 or more. That should change this season.
"Numbers are really good," Rodgers said. "We had 24 certified ... so that's a big jump from last year. I think we ended with around 13 last year."
The graduation loss was STAC runner-up Matt Gatto, but the Indians return senior Gairit Hodson. He just missed a trip to states after placing fourth in the Section IV Division II tournament. He won 21 matches and also placed fourth at STACs.
Owego also boasts a returning sectional champion in RaeAnn Craft, who won the 118-pound title in the first-ever girls sectional championships.
"We have everybody back from last year, except for I think one, but those guys did a lot of work all summer long," Rodgers said. "They've been on the mat in the fall, summer, spring, and they've made tremendous improvements. So, they're all back and they're kind of the leaders of the team.
"Then we also have pretty much all of the growth, all new guys, new to the sport. We have one from Modified last year. That's Caden Hannum. And the rest are essentially new wrestlers, so we've got a lot of kind of veterans, but a lot of new guys as well."
Other returnees include Collin Monell and Bobby Struble, who placed fifth and sixth, respectively, at the STAC tournament as freshmen. Another top returnee is Jozsiah Varga-Flynn, who will be looking to shake off two closely-contested losses at last year's sectional tourney.
The mix of youth and experience should make for an interesting season.
"Our returners, I have really high expectations for," Rodgers said. "I think that we can turn our dual meet season into a winning season. That's my goal, my expectation, to have a winning dual meet season. We're going to a couple dual meet tourneys this year, so we're going to get a lot of those.
"I even think that we can get multiple people through to the state meet. We had Gairit Hodson take fourth last year. Varga lost two really close matches, but he's been on the mat all summer. He has made a lot of improvement. Those are our two main seniors.
"Bobby Struble's got a shot at it. RaeAnn obviously. She'll probably win the girls again. We've got a lot of people putting in a lot of work, so I think we're going to be a lot better season.
Another change on the Owego scene is the move of Gianno Silba from modified coach up to program assistant. Silba, a Newark Valley grad, was a 5th-place finisher at the NYSPHSAA Division I tourney and went on to compete at SUNY Cortland.
The Indians open the season Dec. 1 at Chenango Forks.
NOTE:
The Owego junior varsity team opens the season Saturday at the Friends of Section IV JV Tournament at Horseheads.
——————
IN PHOTO 1: Owego assistant coach Gianno Silba demonstrates a move. ... PHOTOS BY TIM TAYLOR.