HIGH SCHOOL CROSS COUNTRY: SVEC DUO EACH HAVE TOP 60 FINISHES AT STATES (11 PHOTOS)
(2022-11-12)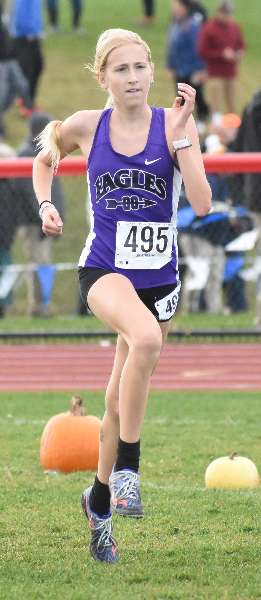 By Brian Fees
Tioga County Sports Report
VERONA — Making their state debuts, a pair of SVEC runners each had top 60 finishes at the NYSPHSAA Cross Country Championships on Saturday at Vernon-Verona-Sherrill High School.
Jonathan Garrison had a 38th place finish in 18:24.1 in the Class D boys race, while Ayasha Schweiger finished 57th in the girls' Class D race in 22:24.5.
Running on a wet, and muddy, course neither runner felt like they had the perfect race.
"I could have done better, I think," Schweiger said. "I think I pushed myself, but I don't know what I could have done better to get the time I wanted."
The course was a challenging one for everyone in the field.
"Pretty muddy," Garrison said. "Definitely tougher than it looks sometimes. It takes a lot out of you."
While the course is fairly flat, there are also a couple big hills.
"I think probably the hills I'd say, I wasn't prepared for that," Garrison said of things that surprised him a bit in his first state meet.
The mud made everything more challenging.
"I had to change my spikes to longer ones to be able to do it with all the mud," Schweiger said.
States was a bit of a different experience for the two underclassmen, though they have run at big meets in the past.
"It was a little different," Garrison said. "It was sort of like some of our faster invites like McQuaid. My goal was to go fast with the guys you'd expect to go fast."
For Schweiger it was an adjustment seeing how fast the state meet can get.
"I think it went fast, really fast," she said. "It was something to get used to today."
Being at states was a special experience for both runners.
"It was nice, I liked seeing everyone again," Schweiger said.
While Garrison had some bigger goals, this is a step toward reaching those goals.
"It feels nice," he said. "It's a step to what my end goals are. At least it's something. I can do a lot better, but it was a good effort."
——————
IN TOP PHOTO: Ayasha Schweiger. ... PHOTOS BY BRIAN FEES