ON TAP TODAY: 3 OF 6 EVENTS ARE INTRA-COUNTY CONTESTS
(2022-09-22)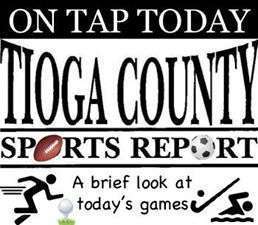 Tioga County Sports Report
TIOGA COUNTY — Half of the day's activities will pit Tioga County teams against one another.
BOYS GOLF
Owego (4-2) at Norwich (6-2), 4 p.m.:
The Indians are coming off a loss to Seton Catholic while the Purple Tornado are seeking their fourth straight victory.
BOYS SOCCER
Tioga (2-5) at SVEC (7-1), 5 p.m.:
The Eagles, who debut in the Class C state rankings at No. 17, host the Tigers, who are trying to rebuild their program after a multi-year shutdown.
Trumansburg at Newark Valley, 4:30 p.m.:
The Blue Raiders slipped out of the state rankings recently while NV is coming off a shutout of Watkins Glen.
FIELD HOCKEY
Owego at SVEC, 4:30 p.m.:
The Indians won their previous meeting, 2-0.
GIRLS SOCCER
Newark Valley (6-0-1) at Waverly (6-0), 7 p.m.:
It's as big as it gets during the regular season as these two unbeatens clash under the lights in a battle for the early lead atop the IAC South Large School division. Waverly is ranked 16th and NV 25th in the state Class C poll.
VOLLEYBALL
Oneonta (3-0) at Owego (5-0), 6:30 p.m.:
Each team comes into this match having dropped just one set.