IAC BOYS SOCCER: SVEC ROLLS IN LIGHTNING-SHORTENED GAME WITH WAVERLY
(2022-09-19)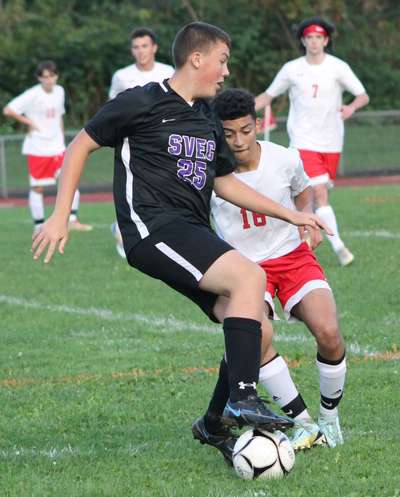 Tioga County Sports Report
CANDOR — Addison Young scored a hat trick and dished out an assist as the SVEC boys soccer team defeated Waverly, 7-0, in IAC South Large School action here Monday.
The game was called with 14:52 remaining due to lightning.
The Eagles built a 5-0 cushion by halftime as they improved to 6-1 with their fifth consecutive victory.
Darren Starkweather scored twice while Jacob Banks contributed a goal and two assists.
Noah Banks added a goal and an assist and Zeb Soper tacked on an assist.
Kody Goble collected a trio of saves in goal while the Wolverines' made five.
SVEC heads to Odessa-Montour (0-5-1) Tuesday.
——————
IN PHOTO 1: SVEC's Emmett Adams. ... PHOTOS BY DANIELLE BANKS.