LITTLE LEAGUE BASEBALL: OWEGO ROBINSON TOPS M-E AT OWEGO 10U TOURNEY
(2022-07-18)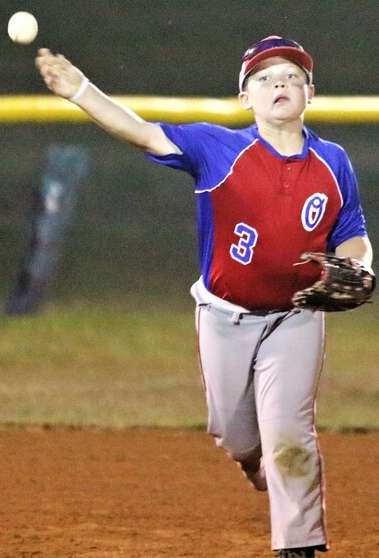 Tioga County Sports Report
OWEGO — A trio of Owego Robinson pitchers held Maine-Endwell Brinsko to one hit en route to a 16-6 victory in Owego Little League 10U Tournament "C" Division bracket action at Hyde Park here Monday.
Stater Gavin Harrington allowed the lone hit, going two innings in the process and striking out six batters. Tanner Barrett and Austin Gregory pitched one inning apiece, fanning two and three, respectively.
M-E took a 3-2 edge into the bottom of the second inning, but Owego scored five runs to surge ahead. The team added five more in the third, then tacked on three insurance runs in the fourth.
Owego collected eight hits on the night. Nolan Whigham went 2-for-2 with a double, two runs and two RBI while Remmington Morgan was 2-for-3 with a triple, a run and two RBI.
Harrington contributed a triple, run and three RBI; Jaxson Weaver had a hit, two runs and two RBI; Dalton Marsh registered a hit, a run and two RBI; and Maxx Thole recorded two runs and an RBI while drawing a trio of walks.
Barrett and Gavin Sipe scored two runs apiece; Theodore Robinson tacked on a hit and a run; and Chandler Serfass and Kaden Kacmar tallied one run each.
Owego, 4-0 for the tourney, meets Union-Endicott Gennarelli (3-1) in the winner's bracket final Wednesday at 8 p.m. on Field 4 with the victor earning a spot in Sunday afternoon's championship round.
——————
PHOTOS BY TIM TAYLOR.