ALL-TIOGA COUNTY BASEBALL: NV'S WANDELL LEADS IMPRESSIVE LIST OF DIAMOND STANDOUTS; TIOGA'S MACUMBER, WAVERLY'S BEEMAN, TOMASSO & McDUFFEE GRAB ACCOLADES ALSO
(2022-06-26)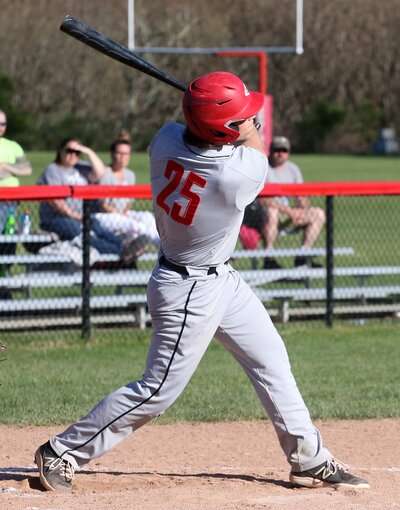 Tioga County Sports Report
TIOGA COUNTY — Newark Valley's Mikey Wandell was the only Tioga County player to hit over .500 and carry an ERA below 1.00, thus earning the senior the All-Tioga County
"Baseball Player of the Year"
honor.
Wandell batted .563 (31-for-55) with nine doubles, two home runs and a triple. He also drove in 28 runs.
On the mound, he struck 96 batters in 38 ⅔ innings and posted a 0.94 ERA. He posted a 3-2 record, but allowed just four earned runs and 12 hits in nine appearances. He tallied double-digit Ks six times, and pitched three or fewer innings on the three occasions he didn't.
Wandell was also a solid mainstay at shortstop when he wasn't on the hill.
The
"Offensive Player of the Year"
is Waverly's Ty Beeman. The junior hit .388 (26-for-67) with three doubles, one triple and three home runs. He also had 27 RBI, 17 runs, 12 walks and five stolen bases. Beeman posted a .470 on-base percentage, a .597 slugging percentage and a 1.047 on-base plus slugging percentage.
Waverly's Joe Tomasso is the
"Defensive Player of the Year."
A slick-fielding shortstop, Tomasso had just two errors in 71 defensive chances for a .972 fielding percentage. He was a part of turning seven double plays.
Tioga's Drew Macumber is the
"Newcomer of the Year."
The sophomore hit .345 (19-for–55) with six doubles, 17 runs, 13 RBI and 15 stolen bases. When he was on the hill he went 2-1 with a 2.18 ERA, and 21 strikeouts in 16 innings.
A 12-10 overall record is very deceptive for the
"Coach of the Year,"
Waverly's Kyle McDuffee. He put together what was arguably the toughest schedule in Section IV with games against four quality Pennsylvania opponents and contests with three of the five Section IV champions. Those seven teams were a combined 106-53 — a .667 winning percentage.
McDuffee also led the Wolverines to a runner-up showing in the Section IV Class B tournament.
——————
ALL-TIOGA COUNTY BASEBALL
Player of the Year:
Mikey Wandell, Sr., Newark Valley
Offensive Player of the Year:
Ty Beeman, Jr., Waverly
Defensive Player of the Year:
Joey Tomasso, So., Waverly
Newcomer of the Year:
Drew Macumber, So., Tioga
Coach of the Year:
Kyle McDuffee, Waverly
First Team
Pitcher: Peyton Farrell, Jr., Owego
Catcher: Max Dydynski, Jr., Tioga
First Base: Cody Sayre, Jr., SVEC
Second Base: Jay Pipher, So., Waverly
Shortstop: Ethan Perry, So., Tioga
Third Base: Brennan Traub, Sr., Waverly
Outfield: Ethan English, Sr., Owego
Outfield: Ethan Nichols, Sr., Owego
Outfield: Jayden Grube, Sr., SVEC
Outfield: Bryce Bailey, Jr., Waverly
Utility: Dan Schofield, Sr., Owego
Honorable Mention
Luke Rinkavage, Newark Valley
Lucas Harbol, Owego
Hunter Harmon, SVEC
Kameron Smith, SVEC
Shea Bailey, Tioga
Casey Stoughton, Tioga
Cobe Whitmore, Tioga
Thomas Hand, Waverly
Caden Hollywood, Sr., Waverly
——————
IN PHOTO: NV's Mikey Wandell. ... TCSR STOCK PHOTO.