IAC BASEBALL: FOUR SVEC PLAYERS EARN ALL-STAR HONORS
(2022-06-22)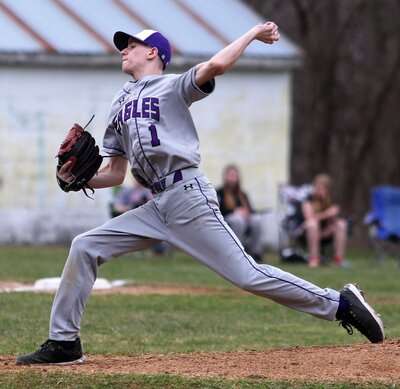 Tioga County Sports Report
CANDOR / SPENCER — Three SVEC juniors and one senior have been recognized as IAC South Large School all-stars.
First baseman Cody Sayre leads the group, earning a spot on the first team. The junior, who also pitched for the Eagles, registered a .460 batting average, going 23-for-50 with two doubles and one triple.
Sayre also carried a .524 on-base percentage and collected 16 stolen bases.
Senior Jayden Grube, and juniors Hunter Harmon and Kameron Smith received honorable mentions.
Grube anchored the SVEC outfield at the center field position. Harmon and Smith made up one of the team's batteries with Harmon on the mound and Smith behind the plate.
——————
IAC ALL-STARS
South Large School
First Team
Owen Stewart, P/IF, Elmira Notre Dame
Logan Meisner, 1B, Elmira Notre Dame
Tyler Richards, C, Elmira Notre Dame
Steve Gough P/CF, Elmira Notre Dame
Cam Johnson, OF, Elmira Notre Dame
Cody Sayre, 1B, SVEC
Cameron Holland, 2B, OM/WG
Daniel Lewis, P, OM/WG
Bryce Bailey, OF, Waverly
Jason Pipher, P/IF, Waverly
Ty Beeman, C/P, Waverly
Honorable Mention
Hunter Harmon, P, SVEC
Jayden Grube, CF, SVEC
Kameron Smith, C, SVEC
Caden Hollywood, Waverly
Brennan Traub, Waverly
Joe Tomasso, Waverly
Thomas Hand, Waverly
Luck Richards, P, Elmira Notre Dame
Jahmeire Keyser, IF, Elmira Notre Dame
——————
IN PHOTO: Cody Sayre. ... TCSR STOCK PHOTO.