IAC BASEBALL: NEWARK VALLEY DUO RECEIVES FIRST-TEAM ALL-STAR HONORS
(2022-06-22)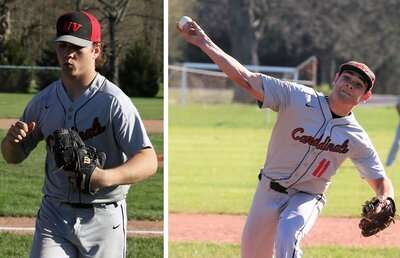 Tioga County Sports Report
NEWARK VALLEY — A pair of Newark Valley seniors have earned IAC South Small School first-team all-star accolades.
Mikey Wandell and Luke Rinkavage, both of whom pitched and played in the Cardinals' infield, played key roles in NV's surge to the Section IV Class C playoffs.
Wandell, who will take his strong right arm to the SUNY Cortland mound, carried a 0.84 ERA over 31 ⅔ innings on the hill. He recorded 82 strikeouts.
At the plate, he posted a .604 batting average (29-for-48), with nine doubles, one triple, one home run and 23 RBI.
Rinkavage (no position noted on all-star list) had a 1.747 ERA. He also hit .480 (24-for-50) with seven doubles, two triples and 16 RBI.
NV went 8-8-1 overall, knocking off 8th-seeded Union Springs in the first round of sectionals before falling to top-seeded Elmira Notre Dame in the quarterfinals.
——————
South Small School
First Team
Ethan Perry, P, Tioga
Drew Macumber, Utility/P, Tioga
Casey Stoughton, 3rd/P, Tioga
Max Dydynski, C, Tioga
Mikey Wandell, P, Newark Valley
Luke Rinkavage, Newark Valley
Issac Allen, IF, Groton
Dylan Swartwood, P, Edison
Kyler Ripley, IF, Edison
Max Goodman, IF, Edison
Honorable Mention
Cobe Whitmore, 1B/P, Tioga
Shea Bailey, 2B/P, Tioga
Deshon Cook, Edison
Michael Brown, Edison
——————
IN PHOTO: Mikey Wandell (L) and Luke Rinkavage. ... TCSR STOCK PHOTO.