IAC SOFTBALL: NEWCOMER HEADLINES NEWARK VALLEY'S FOUR ALL-STAR PICKS
(2022-06-21)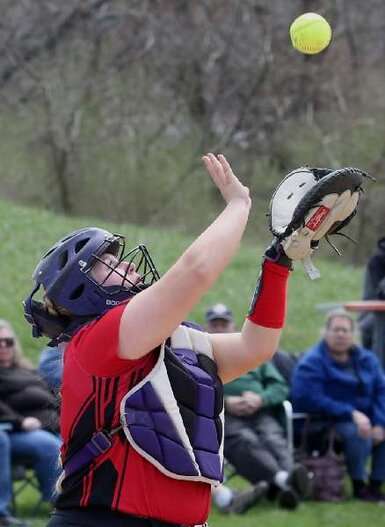 Tioga County Sports Report
NEWARK VALLEY — Leah Austin-Whittaker transferred to Newark Valley from Edison for the 2021-22 school year and this spring made a key impact on the Cardinals' softball team. The junior catcher was named to the IAC South Large School first-team.
Austin-Whittaker, who also put in some time at third base for the Cardinals, hit .364 (17-for-47) with 17 RBI and 14 runs. Eight of her hits went for extra bases.
Outfielder Hayley Beebe, shortstop Mackenzie Malone and pitcher Jocelyn Wright earned honorable mentions.
Beebe was an honorable mention in 2021 as well.
——————
IAC ALL-STARS
South Large School
First Team
MVP:
Olivia Switzer, P, Elmira Notre Dame
Gabby Milazzo, P, Edison
Leah Whittaker, C, Newark Valley
Lawson Bigelow, C, Elmira Notre Dame
Aubrey Ennis, C, Waverly
Kailey Ripley, 1B, Edison
Payton Miller, SS, Elmira Notre Dame
Ava Mustico, 2B, Elmira Notre Dame
Izzy Griffin, 3B, Elmira Notre Dame
Mariana Jones, 3B, Edison
Brianna Korsky, OF, Edison
Maliyah McIver, OF, Edison
Shannon Maloney, OF, Elmira Notre Dame
Honorable Mention
Mackenzie Malone, SS, Newark Valley
Bella Romano, 3B, Waverly
Michaela Lauper, OF, Waverly
Jocelyn Wright, P, Newark Valley
Hayley Beebe, OF, Newark Valley
Olivia Robinson, SS, Waverly
Paige Harvey, DP, Elmira Notre Dame
——————
IN PHOTO: Newark Valley's Leah Austin-Whittaker. ... TCSR STOCK PHOTO.