IAC SOFTBALL: CANDOR LANDS HALF-DOZEN ALL-STAR PICKS
(2022-06-21)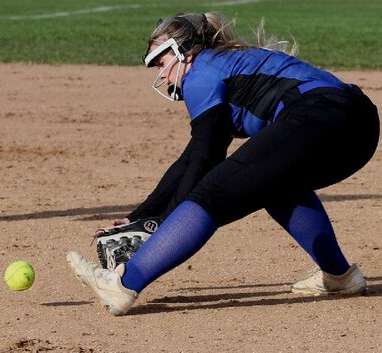 Tioga County Sports Report
CANDOR — The Candor softball team landed three first-team selections and three honorable mentions on the IAC South Small School all-star team.
Catcher Addie Aman, pitcher Anna Greeno and first baseman Shelby Swartz were named to the first team. All three are seniors.
Aman led the team in batting average with a .429 (15-for-35) She had five extra-base hits and scored 21 runs. Swartz went 12 -for-33 (.364) with six extra-base hits, 13 runs and 12 RBI. Greeno was 13-for-37 (.351), including a pair of home runs, and had 11 runs and 15 RBI.
Greeno pitched 80 innings and spearheaded a late-season 5-game winning streak as Candor finished with a 6-7 record.
Receiving honorable mentions were shortstop Jill Holmes, and outfielders Isabel Makie and Chloe White.
——————
IAC ALL-STARS
South Small School
First Team
Co-MVP:
Raegan Sudnikovich, C, Spencer-Van Etten
Co-MVP:
Mykenzie Thetga, C, Tioga
Abby Foley, 3B, Tioga
Erin Luther, OF/P, Tioga
Alissa Hine, P, Tioga
Addie Aman, C, Candor
Shelby Swartz, 1B, Candor
Anna Greeno, P, Candor
Katelyn Klym, 1B, S-VE
Faith Brenchley, SS, S-VE
Rhiana Lawrence, P, S-VE
Hannah Martinez, 3B, S-VE
Honorable Mention
Mackenzie Cannon, Utility, Odessa-Montour
Julia Bellis, 1B, Tioga
Austyn Vance, CF , Tioga
Molly Bombard, 2B, Tioga
RaeAnne Feeko, SS, Tioga
Jill Holmes, SS, Candor
——————
IN PHOTO: Candor's Anna Greeno, who will continue her softball career at TC3. ... TCSR STOCK PHOTO.