(CORRECTED) SECTION IV BOYS LACROSSE: OWEGO EARNS 4 ALL-STAR PICKS
(2022-06-19)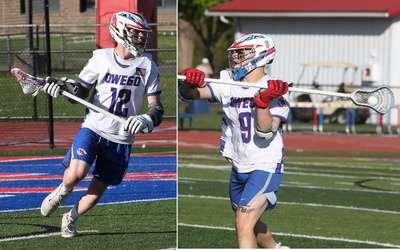 Tioga County Sports Report
OWEGO — Matt Gatto and Nick Maslin earned first-team Section IV Division 2 all-star honors to highlight Owego's boys lacrosse honors.
Joining them were Aidan Both and Mason Wills, both second-team selections.
Gatto, one of the section's top defenders and a second-team pick as a junior, made the elite top list this season.
Selected to play in the David Sammon Senior game, he signed in mid-November to play at the NCAA Division I level with Hampton University.
Maslin, who signed to play at Division III SUNY Brockport, registered 47 goals and 23 assists to lead the Indians' offense this season.
Like Gatto, he was selected to play in the David Sammon Senior All-Star games and was a second team all-division pick his junior year.
Both, a senior attacker, scored 21 goals and dished out eight assists for Owego. Like Gatto and Maslin, he was chosen to participate in the David Sammon Senior All-star game.
Wills, a senior midfielder, was dangerous all over field due to his quickness and athleticism.

——————

IN PHOTO: Owego's Nick Maslin (L) and Matt Gatto. … TCSR STOCK PHOTO.