YOUTH SOFTBALL: EYOTA 10U WINS TOURNAMENT
(2022-06-16)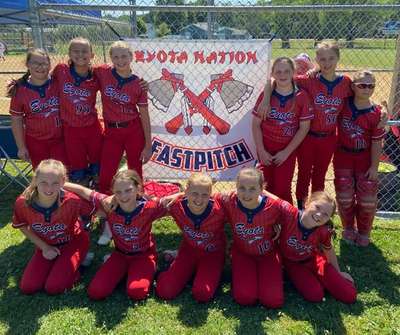 Tioga County Sports Report
HORSEHEADS — The Eyota Nation 10U softball team won the championship game of the 2022 Horseheads Blast tournament Sunday, rallying from a 3-run first inning deficit to post a 5-4 victory.
They won two out of three seeding games on Saturday, only giving up six runs, to earn the No. 1 seed for Sunday's action.
Eyota won its first game Sunday, 6-5, before posting the comeback to take the title.
Emily Sipe pitched 10 of the 12 innings on Sunday, striking out 23 batters. Elise Silvanic pitched two innings to give Sipe some relief and struck out four batters.
Braelea McLaren was swinging the big bat.
The Apalachin-based team's 11-player roster includes Geneva Crawford, Elise Silvanic, Emily Sipe, Lauren Kotski, Brianna Adams, Julianna Serfass and Braelea McLaren, all of whom are Owego-Apalachin students. Evelyn Waite, Brianna Lounsbury and Kate Kithcart go to Tioga, and Merilee Quinn attends All Saints in Endicott.
The team's home ball park is Muth Park on Barton Road, which is also home to the Apalachin AYAA.
——————
PHOTO 1 COURTESY OF EYOTA NATION. ... PHOTOS 2-4 BY BRIAN FEES.