COLLEGE SOFTBALL: CANDOR'S GREENO, WHITE SIGN TO PLAY FOR TC3
(2022-06-13)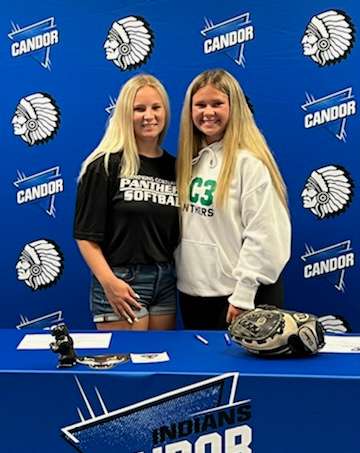 Tioga County Sports Report
CANDOR — In a dual ceremony, Candor's Anna Greeno and Chloe White signed National Letters of Intent to play softball for Tompkins Cortland Community College here Thursday.
Greeno, the Indians' primary pitcher throughout her high school career, posted a 6-7 record inside the circle this season. She surrendered 106 runs, only 56 of which were earned and carried a 4.09 ERA. She struck out 67 batters, walked 17 and hit two more in 80 innings. Opponents hit .363.
She was a key component of a late-season surge in which Candor won five consecutive games. During that span, Greeno recorded 32 strikeouts and gave up 21 hits. The Indians outscored those teams, 66-6, compared to a 99-41 deficit during their other eight contests.
White, who made some key plays in center field throughout the season, hit .268.
Greeno was named an IAC South Small School first-team all-star and White earned honorable mention status.
The pair are the second duo from the Class of 2022 to sign with the Panthers, joining Tioga's Abby and Gabby Foley.
TC3 fielded a 10-player roster this past spring, all freshmen.
——————
IN PHOTO 1: Candor's Chloe White (L) and Anna Greeno. … PHOTOS COURTESY OF HOLLY CARLING.