NY STATE BOYS BASKETBALL: CANDOR'S ZIMMER RECEIVES ACCOLADE
(2022-06-13)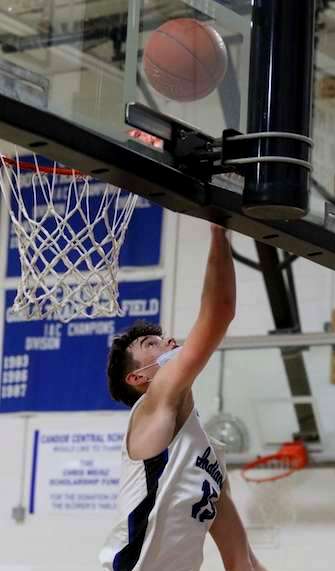 Tioga County Sports Report
CANDOR — Candor's Will Zimmer has received an accolade from the New York State Sportswriters Association.
The senior standout, who played a key role in the Indians' march to a 17-6 record, was named an honorable mention on the Class C all-state team.
Zimmer was a strong all-around player, averaging 14 points per game, hitting field goals with 59-percent accuracy. He also contributed 9.6 rebounds, 1.4 blocks and 1.4 steals per contest.
"Will had an incredible senior year for us," coach Nate Thomas said. "His achievements were the result of an extreme amount of work with his nutrition, fitness program and basketball skill. His skill set and athletic ability allowed him to be a force everytime he stepped between the lines.
"Coach Soper worked closely with Will for the last three years to help develop his skills. Their great relationship allowed for honest feedback and great learning opportunities for Will which he took advantage of. Will led our team in scoring, rebounding and FG percentage. He had more rebounds at Candor than any player in 21 years (221). He had nine games of 17 or more points."
Zimmer was also selected the All-Tioga County "Defensive Player of the Year" as he and his teammates held opponents to 39.6 points per game. That was second among Section IV's 67 teams (Watkins Glen's allowed 39.0 points per game). He averaged 5.0 defensive boards.
Zimmer played a key role in a 49-47 upset of eventual state champion Newfield which would force a playoff for the IAC South Small School championship. He and teammate Nick Thomas posted double-doubles in that victory with Zimmer pumping out 20 points and pulling down 13 rebounds. He also contributed two steals and one blocked shot.
"Far more impressive than any of Will's accomplishments on the basketball court are his character qualities as a human, coach Thomas said. "Will is one of the most humble players I have had the pleasure to coach. He is highly respected by his peers and teammates because of his work ethic and ability to lead by example. We are going to miss Will's contributions to our basketball program and school community."
——————
TCSR STOCK PHOTO.