COLLEGE SOFTBALL: OWEGO'S KIRTLAND TO PLAY FOR BROOME COMMUNITY COLLEGE
(2022-06-12)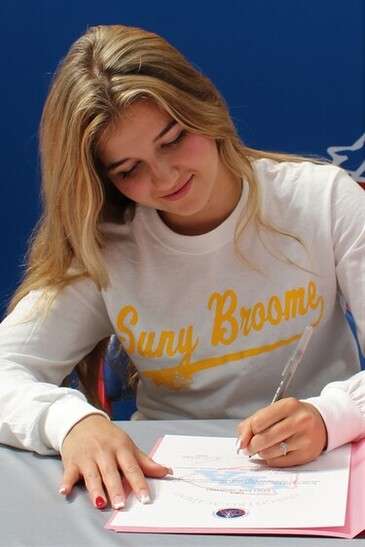 By TIM TAYLOR
Tioga County Sports Report
OWEGO — Carly Kirtland capped her senior season of softball at Owego with a Section IV Class B runner-up showing.
A thrilling extra-inning championship game was held just down the street from SUNY Broome Community College, the school in which Kirtland will continue her softball career.
"I chose SUNY Broome because it's close to home and its affordability," she said. "I just need to get general classes done so I thought this would be a good fit for that. I am majoring in childhood education and hoping to teach third grade some day.
Kirtland is confident that she can make a positive contribution to the Hornets' program.
"I believe that I have a lot to offer to their softball team," she said. "I have a great work ethic and I never give up. Each mistake is a possibility for me to become a better player and learn from it. I listen well to coaches and take any advice that they give me. I am always uplifting and trying to get my team excited. In the field, I am willing to go for anything even if that means that I have to dive to get to the ball.
"Nothing is impossible; it just depends on whether or not you want to put in the effort to get there. I believe that I need to improve on consistency in my hitting. When I get a hold of the ball, it goes far because I'm a power hitter but I need to execute this more often. I believe that this is the only setback but it just takes practice and I'm willing to put in the work to get there."
Kirtland saw most of her action in left field and hit .242 during the regular season and .195 overall.
She had a 3-run home run against Seton Catholic and finished the game with five RBI and four runs, and she also had a two-hit, three-RBI game against Oneonta.
In the sectional quarterfinals, Kirtland scored the game-winning run in a 5-1 victory over Waverly.
——————
PHOTOS BY TIM TAYLOR.