NYSPHSAA T&F: WALTER HITS 150 FEET, BREAKS SCHOOL RECORD IN TAKING 6TH IN FEDERATION IN DISCUS (5 PHOTOS)
(2022-06-11)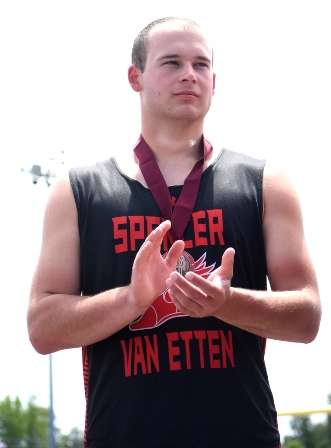 By Brian Fees
Tioga County Sports Report
CICERO — Elliott Walter had a goal heading into Saturday's discus championship.
The Spencer-Van Etten senior wanted to hit 150 feet and capture a state medal. After getting to 148-feet on Saturday, he had a strong second throw on Saturday before breaking through with the school record on his third throw of the day, hitting a 150-foot, 1-inch throw to finish with a sixth-place Federation medal.
"It feels good," Walter said. "I was definitely nervous. I wasn't sure if I was going to be here, and I still had some goals I wanted to hit."
After placing fourth in Division 2 on Friday, and getting himself into the federation final, Walter knew he was ready for a big day Saturday.
"It did give me a little bit (of confidence), because I was able to get a new PR of 148, so I knew I was really, really close to my goal."
On Saturday Walter felt like it might be his day.
"I thought so, I felt good after yesterday," Walter said.
And, on Saturday he started building up to the big throw. After hitting for 140-feet, 7-inches on his first throw, he had a new PR of 149-feet, 4-inches on his second throw, before getting the 150. Walter broke the school record, which was just over 149 feet, set in 2011 by Ben Beauchamp.
"I think I did a good job of building on each throw," Walter said.
For Walter throwing on Friday helped give him some momentum going into Saturday.
"I think that was a big part just going two days back-to-back, I was able to keep it fresh in my mind," Walter said.
And, after competing on Friday the nerves were a lot better on Saturday.
"I didn't feel as stressed, I relaxed a little bit," Walter said.
For Walter it was fun competing with the best throwers in the state, in an event where Alessandro Salesman of Fonda-Fultonville threw 182-feet, 5-inches to win the Federation title.
"That was really fun, I haven't been able to see that before," Walter said. "I have never seen anyone throw as far as some of those guys do, so it was fun."
——
PHOTOS BY BRIAN FEES