NYSPHSAA T&F: NEWARK VALLEY'S SHERWOOD WRAPS UP CAREER WITH STATE MEDAL IN STEEPLE (9 PHOTOS)
(2022-06-11)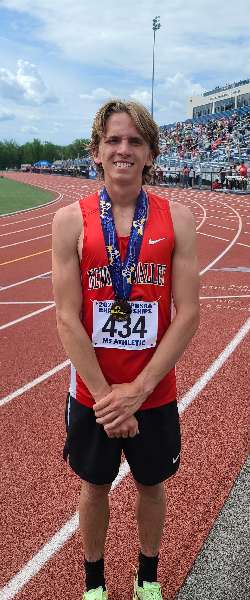 By Brian Fees
Tioga County Sports Report
CICERO — Newark Valley's Jonny Sherwood is a true student of the sport of track and field.
He follows the history of the sport, and knows what impressive performances look like.
On Saturday the Cardinals senior found himself right there among some of the best to run the steeplechase as he earned a fourth-place Division 2 state medal in the 3000 meter race with a time of 9:54.45.
"I was seeded fifth or sixth, so fourth is quite an accomplishment for me," Sherwood said. "I was just looking to run good at states, you can't look for anything better than that."
For Sherwood it was a big performance in his first ever trip to outdoor track and field states.
"Definitely proud of myself," Sherwood said. "I have never run at states before. It's a huge accomplishment for me."
Sherwood went out strong, running right behind the lead pack for much of the race, before falling back a little the final two laps, holding on for a state medal.
"It was a lot more spread out than I thought it was going to be, seeing the seed times," Sherwood said. "But, I went after it, then I just tried to survive."
The heat was tough, but Sherwood knows that at least his race was early in the day.
"Definitely glad I'm running at 10 o'clock, it's going to be hot today," Sherwood said.
For Sherwood, just being in a race with someone like Trinity School's Nikhil DeNatale, who set the facility record with his winning time of 9:01.18, was special.
"Very fortunate," Sherwood said of being at states. "That kid broke Parker Stokes' time. Parker got third last night at nationals. So, that's a heck of an accomplishment to say I could run with him. He might be at the national level in a couple years. That's pretty cool, you don't get that competition anywhere else.
"I am a student of track and it's definitely great to see this great competition. Colton (Kempney) came back after the two mile (Friday) running at 6 o'clock last night, and had a great race today. Just to be running with them is a great accomplishment for me."
Sherwood will still be seeing Kempney in the future as both will run in the same conference in college.
"I'm going to Western Carolina University, which is in the same conference as Colton Kempney, he is running for Furman, so I can't quite lose him."
The idea of running in college is special for Sherwood.
"I'm excited to do steeple at the next level, I've learned a lot," Sherwood said.
——
PHOTOS BY BRIAN FEES