NEW YORK STATE TRACK & FIELD: OWEGO'S STUART FINISHES 9th IN D-2 3200
(2022-06-10)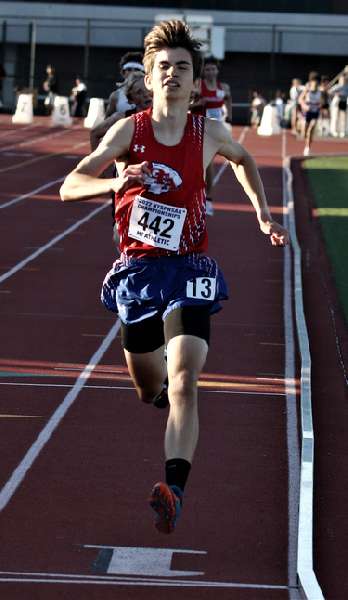 By TIM TAYLOR
Tioga County Sports Report
CICERO, N.Y. — Owego's Jace Stuart made his debut at the New York State Boys Track & Field Championships at Cicero-North Syracuse High School Friday with a 9th-place showing in the Division II 3200-meter run.
The junior made a late surge from the back of the pack in his heat of 16 Division I and II runners to finish 12th in the heat. He was 29th overall in a field of 33.
"I was getting a little worried when I saw those kids that I planned to be with when they went out ahead, but I caught my target goals as for people that I wanted to get," he said.
Stuart's final-lap split of 1:11.93 trailed only his opening split of 1:08.79 in a fast-paced race. His other splits were 1:14.48, 1:17.54, 1:18.58, 1:18.43, 1:19.74 and 1:16.1.
Stuart came into the meet hoping to break 9:50, but a steady breeze blowing across the track was an obstacle.
"It could have been better, but I'm not disappointed with it," Stuart said. "I think it was a great experience to run at states and I'm happy that I got to do it."
The experience helped him pick up some tips which he can use next year.
"Usually in track invitationals and stuff I'm in the front of the pack and this time I wasn't," he said, "so, it just helped me be prepared for situations like that in the future when I have to do that."
——————
PHOTOS BY TIM TAYLOR.