NEW YORK STATE TRACK & FIELD: S-VE'S WALTER CLAIMS 4th IN DISCUS
(2022-06-10)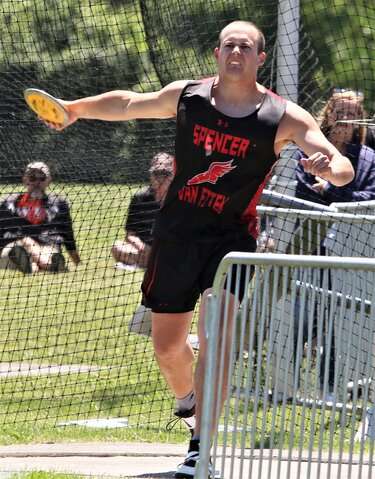 By TIM TAYLOR
Tioga County Sports Report
CICERO, N.Y. — S-VE's Elliott Walter reached the podium and set a personal record on the way to a fourth-place showing in the Division II discus competition at the New York State Boys Track & Field Championships at Cicero-North Syracuse High School Friday.
The Panther senior landed a toss of 148 feet even on his first attempt of the meet.
"That's a 3-foot PR, so I'm alright with it," Walter said. "Not what I was hoping for."
He came in seeded sixth in Division II with a seed throw of 145-2.
Walter came into the meet with hopes of reaching 150 feet, which would have set a new school record. Ben Beauchamp hit a little over 149 in 2011.
"I started off good, but started a slow decline," he said. "Didn't really get the feel I wanted to on the later throws."
Walter fouled on his second throw then hit distances of 145-7, 144-1, 140-2 and 134-5.
Despite windy conditions, Walter said the weather didn't affect his performance too much.
Walter placed eighth in the combined Division I and Division II standings, and will compete in the overall finals Saturday at 11:30 a.m. He needs to throw the discus another 18 inches to break the school record.
——————
PHOTOS BY TIM TAYLOR.