NEW YORK STATE BOYS TRACK & FIELD: NEWARK VALLEY'S SHERWOOD FACES TALENTED STEEPLECHASE FIELD
(2022-06-09)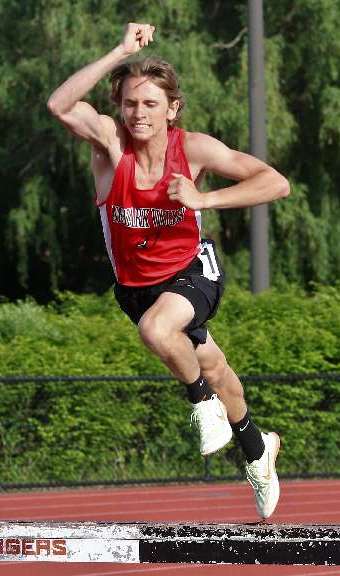 By TIM TAYLOR
Tioga County Sports Report
CICERO, N.Y. — Newark Valley's Jonny Sherwood will be facing some top-notch competition in the 3,000-meter steeplechase at the New York State Boys Track & Field Championships at Cicero-North Syracuse High School Saturday.
The field includes five runners ranked in the top seven nationally, including two in the Division II race.
Colton Kempney of Beaver River in Section III is ranked No. 3 with a time of 9:20.62 and Kyle Urban of Alden Central in Section VI is No. 7 at 9:31.37.
The country's top two runners are Julian Franjieh (9:08.46) of Niskayuna in Section II and Nikhil DeNatale (9:10.83) from Trinity School in New York City. Franjieh will compete in the Division I race while DeNatale will vie for Federation honors. Trinity is part of the Association of Independent Schools, which is not eligible for public school awards.
Sherwood, with a seed time of 9:49.79, is ranked 21st nationally and is seeded fourth in D-2. He is separated from the third seed by less than five seconds while the fifth seed is more than 10 seconds behind him.
"I'm excited about going to the next level here," he said. "It's states. This will be my first time competing at the state level, so very exciting for me to make it to state.
Sherwood missed out on opportunities to qualify for the state meet in 2020 and 2021 due to COVID-19 cancellations, but has taken it all in stride.
"Everyone's in the same situation that I am," he said. "It is what it is and I've just got to look forward to what I got this week.
"I'll be excited for whatever I do there. We'll see how that goes, but the kid in first, I might need him to fall twice, so we'll see what happens. Definitely run and have fun though."
At the state qualifier last week, he won the event over the Division I champion, Corning's DJ Cornfield, whose seed time is 9:58.44. Nobody in D-2 challenged the NV senior.
The course at C-NS is slightly different than what Sherwood has run this season, so that's a change he has been working on adapting to.
"Cicero's set up a little bit different," he said. "The water pit is actually near the 200 mark, so that changes all the rest of the barriers.
"It's definitely trying to get used to jumping at those distances, but just have fun with it and make sure my legs are healthy for when I run."
One of the things Sherwood does well at is staying dry at the water hole hurdle, which he feels gives him an advantage over competitors who land in the water.
"Definitely," he stated. "The less water the less I get slowed down and I'm one of the better probably in the state of jumping off the pit, D'Arcy always says, so I've got to take advantage of where I thrive and then capitalize on it."
Coach Eric D'Arcy has podium expectations for the Cardinal standout.
"I'd like to think he can be in the top three to four in Division II," he said. "There's one or two runners that would probably be a little bit ahead of him time-wise. Outside of that, he can be competitive with anyone else in the Division II race. Probably in the top 10 in the overall, I would guess based on what I've looked at for the times of the rest of the state and he probably will be in the faster of the two heats.
"The top seed is a pretty special kid," D'Arcy said. "He's one of the top kids in the country. Even the number two kid. That is going to be the one challenge, but you know, the big thing right now is just getting them used to and ready for what's coming, and we're pretty excited about that.
"It's nice to have track in the spring and have state championships once again for the kids."
The steeplechase will be held Saturday at 10 a.m.
——————
PHOTO BY TIM TAYLOR.