NEW YORK STATE BOYS TRACK & FIELD: OWEGO'S STUART SEEKS PR IN 3200
(2022-06-08)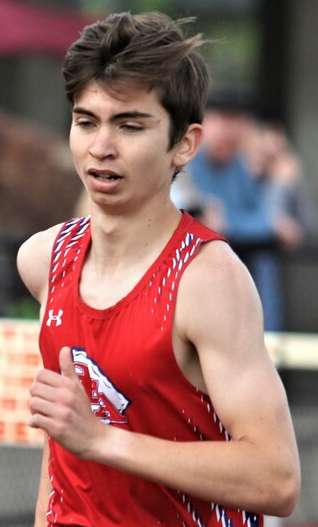 By TIM TAYLOR
Tioga County Sports Report
CICERO, N.Y. — Jace Stuart will continue the Owego tradition of distance running excellence when he competes in the 3200-meter run at the New York State Track & Field Championships Friday evening.
The junior is seeded 11th among Division II competitors in the last event of opening day at Cicero-North Syracuse High School with a seed time of 9:50.21. He has his sights set on bettering that time.
"I hope to get a PR, hopefully sub-9:50 … so I think it's definitely something that I can do," he said. "As for placement, I don't really have any clear goals in mind, just get out with the pack and hopefully place."
"Jace is an extremely hard-working athlete," coach Scott Senko said. "He is constantly running, even when the team takes a day off. He put in a lot of work over the summer and had a fantastic cross country season and then continued that hard work through the winter.
"His endurance has been great this season and we have been working on increasing his speed," Senko said. "We have seen some big improvement in this area and his times in the shorter races have improved drastically.
Stuart isn't fazed by the fact that his event comes at the end of a long day of competition.
"I think it'll be fun to watch the other races because I haven't been to a state meet for track, so I think it'll be fun to see those and just, you know, get a lay of the land," he said.
Stuart competed in the cross country state championships as a freshman in 2019 and thinks he can use that as a learning experience.
"Just how big the meet is," he said. "I've never seen anything like that, that many people there, so I kind of know what to expect in that sense."
At the state qualifier, Division I and Division II ran together, so Stuart took on the challenge of competing against Corning standouts Jack Gregorski and J. Matthew Gensel, who are seeded second and 16th, respectively, in Division 1. At the qualifier, Stuart built a comfortable lead over the other Division II contenders after the first few laps.
"I think that Jace's time will continue to drop and he will have his best race of the season at states," Senko said. "This weekend should be a great experience for Jace and the best part is that he is only a junior."
The 3200 begins at 6:30 p.m. Colton Kempney of Beaver River in Section III is the top seed at 8:56.31.
NOTE:
The last time the state meet was held was in 2019 due to COVID-19 cancellations. The Indians' Nate Bowers placed third in the 3200 with a time of 9:27.84 that year.
——————
PHOTOS BY TIM TAYLOR.