NEW YORK STATE BOYS TRACK & FIELD: S-VE'S WALTER LOOKING TO REACH DISCUS PODIUM
(2022-06-09)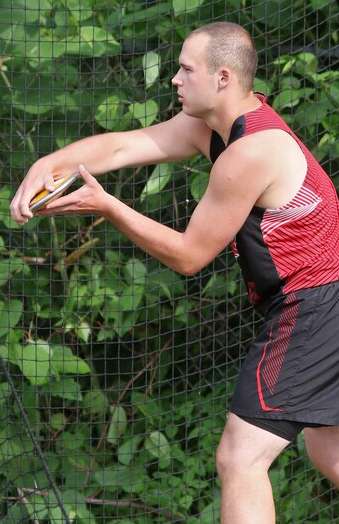 By TIM TAYLOR
Tioga County Sports Report
CICERO, N.Y. — S-VE's Elliott Walter has an opportunity to reach the podium at the New York State Boys Track & Field Championships, but will have a strong field of contenders to battle in the Division II meet at Cicero-North Syracuse High School.
"I just want to get better than last week," Walter said. "I'd like to get out there around 150. That's the goal."
That would also challenge school record-holder Ben Beauchamp, who tossed the discus just a few inches shy of 150 in 2011.
"I think I would be happy as long as I placed top six, so I get podium," Walter said.
Walter has been trying to fine-tune various aspects of his skill in the final days leading up to states.
"We're working on my release a little bit and then a little bit on my position when I hit the metal, but other than that I keep everything else about the same," he said.
He has also been varying the amount of throwing he does at practice.
"It depends," Walter said. "Right after the state qualifier I was throwing pretty heavily, like 30, 40 throws in practice, but now I'm slowing down a little bit. Today I'll probably only do like 10 or 15."
Walter said he spends a lot of time just throwing.
"A lot of reps," he said. "Reps are important."
Visits to the weight room are also a big part of his routine.
"I'm in the weight room all year round, and then I stopped probably two weeks ago to let my body heal up for state qualifiers and states," he said.
S-VE coaches Ryan Holmes and Rebecca Paasch have high hopes for the thrower.
"I expect him to do really well," Holmes said. "I expect him to stay up there in the top six in Division II.
"I know that Elliott is going to represent S-VE and all of Section IV as well as he has all season."
"I feel like there's going to be a PR and I feel like he's going to get 150," Paasch added. "I think that throw is in there. The 145-2 … I told Elliot, like as soon as it left his hand, I knew it was a really good one, but it had really good speed and it was a great release, but it needed height. If you put those three things together, I think he's going to get 150. I really think it's in there."
As far as helping Walter, Holmes admits his specialty is running, although he said Paasch has some experience with throws.
She chuckled at the comment, noting that "Elliott has thrown like three years more than I ever threw.
"I don't say a whole lot," she added. "I think what I'm good at is getting kids started throwing, you know, basic foundations, so they don't develop any bad habits and things like that, but when they get to his level I kind of stand back and let him do his thing. If I see something like just a little tweak, I might mention it, but I don't say a whole lot.
He's working with a professional coach. I don't want to step on his toes or interfere. If there's something he's telling him, I don't want to contradict that, so I just kind of let him do his thing and he's always good about being prepared. He has his own routine that he goes through. I think we kind of just step back.
"We let him out of the sprints this year, and just focus on throwing this year," Holmes quipped.
Walter will continue his throwing skills at RIT and could possibly pick up the hammer throw and javelin, two track & field disciplines not offered to New York high school athletes.
A lot of people think discus is for bigger athlete, and even though Walter is a big thrower, Paasch puts a lot of emphasis on technique and other aspects.
"I just think there's like kind of a stereotype of the big kids just throw and you just have to be big, but there's so much technique and you've got to have good balance, agility, you've got to have speed yet.
"Mentally, at this level you have to just kind of be able to block everything out and just focus on your throw. There's a lot involved.
It's much harder. You watch somebody like Elliott and you think, oh, that's easy. They make it look easy and it's not.
The Division II discus competition begins at 12:30 p.m. Friday with Walter leading off the second flight. The overall championship takes place Saturday at 11:30 a.m. for those athletes who qualify.
Alessandro Saltsman from Fonda-Fultonville in Section II is the top seed in D-2 and overall at 190-01.
——————
PHOTO BY TIM TAYLOR.